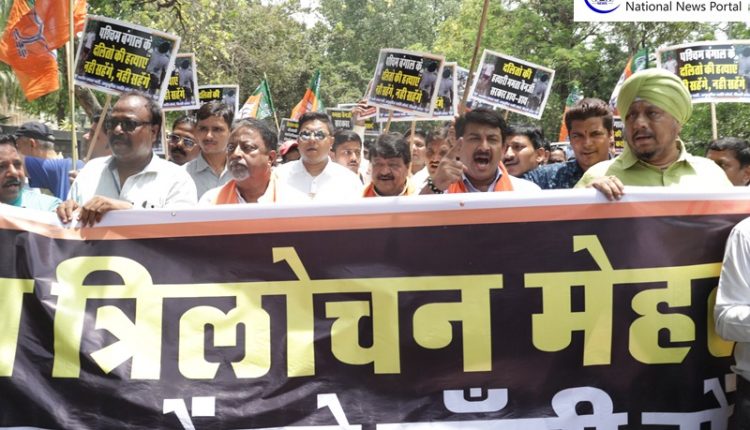 New Delhi: Just a day after Trinamool Congress (TMC) leader and Chief Minister Mamata Banerjee's nephew Abhishek Banerjee said that he would make West Bengal's Purulia opposition free, an 18-year-old Dalit boy was found hanging from a tree in the district.
A young BJP worker identified as Trilochan Mahato was found hanging from a tree in West Bengal's Purulia district at dawn today, in what the party alleged was a political murder linked to the violent civic polls in the state earlier this month. 20-year-old Trilochan Mahato was hanged by a nylon rope not very far from his home at Supurdih village in Purulia's Balarampur block.
On Friday, Delhi BJP's President Manoj Tiwari and S.C. Morcha workers held
massive outrage against the brutal killing of a 18 years old Dalit boy (Trilochan Mahato) in Bengal. BJP has claimed that 20-year-old Trilochan Mahato had worked very hard during the recent Panchayat polls in which Trinamool Congress suffered some setbacks in Purulia.
Speaking to Ten News Exclusively, BJP President Manoj Tiwari said, "We are deeply saddened by the barbaric murder of Trilochan Mahato, The present TMC govt in West Bengal has surpassed the violent legacy of Communist rule. Entire BJP mourns this tragic loss & stands firmly with Trilochan Mahato's family in this hour of grief. His sacrifice for organisation & ideology will not go in vain."
"Seeing the unprecedented rise of BJP in Bengal, rattled TMC cadres are resorting to violence. Nefarious attitude of TMC will cost them," added Tiwari.