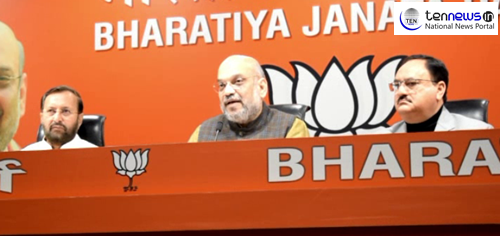 New Delhi 🙁 13/12/18) BJP President Amit Shah addressed a conference today which was regarding the latest judgement by Supreme Court related to Rafale Deal Controversy.
Sharing the details of the Supreme Court verdict, Amit Shah said,
"There is no reason for the court to sit in judgement on the correctness of the Rafale jet deal, , in a massive relief to the government, which had been accused by the Congress of corruption in the Rs 59,000-crore deal for 36 fighter jets."
Petitions alleging that the government had gone for an overpriced deal to help Anil Ambani's company bag an offset contract with jet-maker Dassault also didn't wash with the court, which said: "There is no evidence of commercial favouritism to any private entity."
Amit Shah questioned Congress chief Rahul Gandhi about the source from where he got such fake information about Rafale Deal.
"Rahul Gandhi always said words of no use, speeches of no use and did works with no benefits for the nation. He, by accusing Modi for Rafale Deal Controversy, did something that affected the morale of our nation's army men, who stands constantly whether the temperature is -43C or +43C." Amit Shah added.
The three-judge bench comprising Chief Justice of India Ranjan Gogoi and Justices Sanjay Kishan Kaul and KM Joseph, had heard several petitions challenging the deal, alleging corruption and irregularities in the procedure that was followed for the deal to purchase 36 aircraft from Dassault.