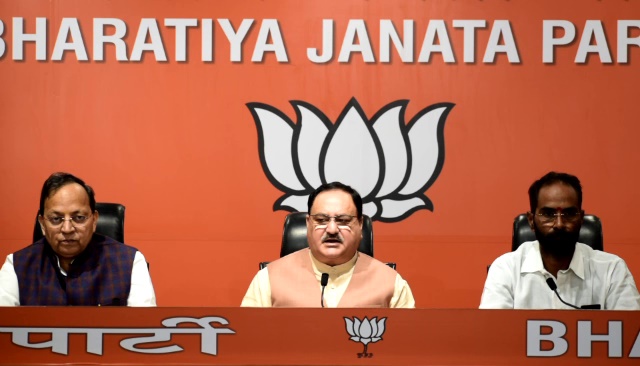 BJP releases list of 52 candidates for Jharkhand assembly elections
Saurabh Kumar (Photo-Video) Lokesh Goswami Tennews New Delhi :
New Delhi: Today, conducting a press conference regarding the upcoming Jharkhand assembly elections, the BJP working President, J.P Nadda praised the work done by the BJP government in the state.
Talking about the elections he said "5 years back, Jharkhand was known for corruption & instability. Today, under the leadership of Raghubar Das, Jharkhand is know for stability & development. Corruption has been brought down & the state is moving towards development."
"An atmosphere of positive cooperation can be seen in Jharkhand. Raghuvar Dasji is getting support from all sections of the society. Changes have been seen in the last five years due to the BJP government. Corruption has been prevented due to which the state is moving towards development," Mr Nadda said.
Bharatiya Janata Party announced names of candidates for 52 seats out of 81 seats for the upcoming Jharkhand AssemblyPolls. Chief Minister Raghubar Das will be contesting from Jamshedpur East and Jharkhand party president Laxman Giluwa will be contesting from Chakradharpur.
Jharkhand will vote in five phases, with the first one on November 30 and the last on December 20. The results will be declared on December 23.