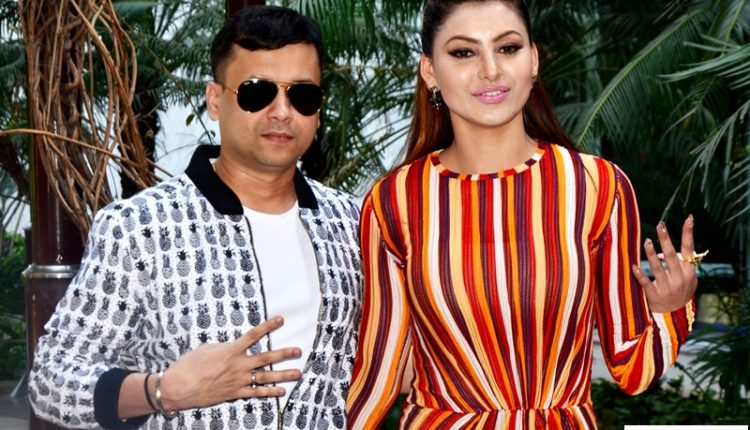 Bollywood Diva Urvashi Rautela promotes her upcoming film 'Hate Story IV' in Capital!
PRERIT CHAUHAN (PHOTO/VIDEO BY SAURABH SHRIVASTAVA)
New Delhi: Bollywood Diva, Urvashi Rautela who has mostly featured in adult comedy films or erotic thrillers, has recently received death threats on one of her dialogues in 'Hate Story IV' that compares her raunchy role to the Hindu goddess 'Draupadi'.
In addition to Urvashi's hot look, this film has been in news because of the revised version of "Aashiq Banaya Aapne". The title track of the 2005 film "Aashiq Banaya Aapne" has been included very beautifully in the movie.
On Monday, The 'Hate Story IV' Actress Urvashi Rautela with Her Director Vishal Pandya Were seen In New Delhi To Promote her upcoming Erotic Thriller. Addressing The Media, Urvashi Spoke About her Non-Filmy Background. "Given my non-movie background, I'm far away from the glamarous life of Bollywood. Whenever I have to do bold scene I have to take permission from my parents. I have done it for Hate Story 4 too", Said Urvashi.
Speaking Exclusively To Ten News About her Character in The movie , The Glamorous Actress Said, "The character I am playing is called Tasha. She is a supermodel. What makes her different is that apart from being very strong, independent and fierce, she is also very soft and fragile. She is very vulnerable and this is her threshold."
Hate Story 4 is an upcoming 2018 Indian Hindi-language erotic thriller film directed by Vishal Pandya and written by Sammeer Arora. It features Urvashi Rautela, Karan Wahi, Vivan Bhatena in the lead roles. It is fourth installment in the Hate Story. The Movie is all set to hit the theatres on March 9, 2018