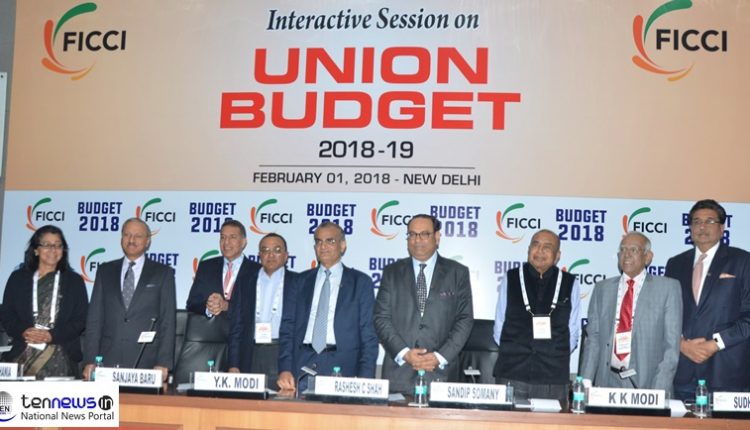 Budget 2018: A Milestone Budget for Agriculture, Education and health  
KASHIF HASNAIN (PHOTO/VIDEO BY SAURABH SHRIVASTAVA)
New Delhi: Union Finance Minister Arun Jaitley presented the last national budget of the Narendra Modi led-NDA government on Thursday. The budget was focused on agriculture, farming, education, however, it disappointed the corporate sectors because of no reduction in taxes.
In his last full year budget before a national election which is scheduled to held by May 2019, Finance Minister Arun Jaitley, spoke of massive spending on rural infrastructure, to win over voters in the countryside.

This budget is the milestone for the agriculture because the government has raised 1.5 times MPS for Kharif crops. Moreover, to develop agriculture funds, a Agricultural Market Development Fund to be set up with a corpus of 2000 crore and proposal to raise institutional credit for agriculture to Rs 11 Lakh Crore for 2018-19.
The budget was welcomed by the several quarters of the society, however, it also drawn criticism from corporate and banking sectors.

In 2017, the Railway budget has been merged with the national budget. In terms of railway this year, no new announcements have been made, while the focus remain on enhancement, development project, use of technology for better services and so on. "Focus will be on safety, maintenance of railway tracks, increase in use of technology and fog safety devices," said Jaitley during the budget speech.
While briefing the media, the president of Federation of Indian Chambers of Commerce and Industry (FICCI) Rashesh Shah said, "Finance Minister has tried to cover all the important aspects but this budget is milestone for agriculture sectors but disappointing for corporate sectors, who were expecting reduction is taxes."
He further said that, "Senior citizen and employees have been especially taken care of. And we want to a stable tax regime which is helpful to run a business."
Major highlights of the Budget 2018-19
Agriculture:
-Minimum Support Price (MSP) has been set at 1.5 times the production cost for kharif crops.
-Propose launch of a restructure national bamboo mission with Rs 1200 crore,10,000 crore has been allocated to fisheries and animal husbandry sector.
-The focus is on low-cost farming, higher MSP. Emphasis is on generating farm & non-farm employment for farmers.
For Backwards Class:
-Every block of the country with more than 50% of ST population and at least 20,000 tribal people will have 'Ekalavya' school at par with Navodaya Vidayalas by 2022.
-Allocation of Rs. 56,619 crore for SC welfare and Rs. 39,135 crore for ST welfare funds.
Education:
-Government to set up two new full-fledged Schools of Planning and Architecture.
-24 new government medical colleges and hospitals to be set up by upgrading existing district hospitals.
-Technology will be the biggest driver in improving quality of education. We propose to increase the digital intensity in education and move gradually from blackboard to digital board.
Railway:
-All railways stations with more than 25,000 footfalls to have escalators. All railway stations and trains to have Wi-Fi and CCTVs progressively.
-Redevelopment of 600 major railway stations has been taken up; Mumbai transport system is being expanded; suburban network of 160 km planned for Bengaluru.
-Foundation stone of the bullet train was laid in September 2017. An institute is coming up in Vadodara to train the manpower required for the high speed railway projects
Other Important Highlights:
-Cleaning of Ganga is of national importance, have sanctioned 187 projects under NAMAMI Ganga scheme.
-Air Pollution in Delhi NCR is a cause for concern, special scheme will be implemented to support Govts of Haryana, Punjab,UP and Delhi NCT to address it and subsidize machinery for management of crop residue
-Govt proposes to increase the target of providing free LPG connections to 8 crore to poor women
-Govt plans to construct 2 crore more toilets under Swachh Bharat Mission. "We have constructed 6 crore toilets under Swachh Bharat Mission, our aim is to build 2 crore more toilets." Said Jaitley.
-Proposal to develop 10 prominent tourist destinations as Iconic tourism destinations in India.
-The Government is proposing changes in refixing salaries of Members of Parliament. Law will provide automatic revision of emoluments of the MPs every 5 years indexed to inflation.