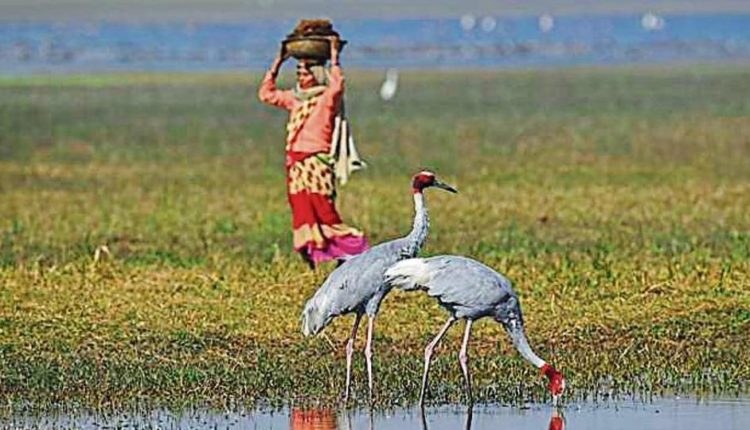 Centre writes state government for proposing Greater Noida Wetland for international wetland tag
Saurabh Kumar
Greater Noida: Gautam Budh Nagar got a major gift on the eve of World Environment Day as environment ministry's national river conservation directorate wrote to the principal secretary of the Uttar Pradesh forest department, asking them to propose Dhanauri for Ramsar site tag. Dhanuari is a large wetland in Greater Noida spread across 25 hectare of area which is home to a large number of Sarus Cranes and migrant birds.
Wetland declared as Ramsar are protected under strict guidelines as per the intergovernmental treaty that provides the framework for conservation and wise use of wetlands and their resources. Dhanauri wetlands fulfils two three criteria for a wetland to be declared as a Ramsar. The site should support vulnerable, endangered, or critically endangered species or threatened ecological communities. A wetland can also be considered for the tag if it regularly supports 1% individuals of a species or subspecies of water birds.
Once approved, it will be the 28th wetland in India, and only the second from UP (after the Upper Ganga river), to be declared a Ramsar site. Author and birder Anand Arya, who has been asking for the legal protection of Dhanauri wetlands as it supports a fairly large population of the vulnerable Sarus crane population, had proposed to the environment ministry that the wetland meets two criteria to be declared a Ramsar site. One, it has more than 1% of the biogeographic population of one species: the Sarus crane. Two, the area supports congregation of more than 20,000 waterfowl and other species.
India has 27 sites designated as Wetlands of International Importance or Ramsar sites, with a surface area of over one lakh hectares. Ashtamudi wetland in Kerala, Bhitarkanika mangroves in Odisha, Sunderban wetlands in West Bengal, and Wular Lake in Kashmir are some of India's Ramsar sites.