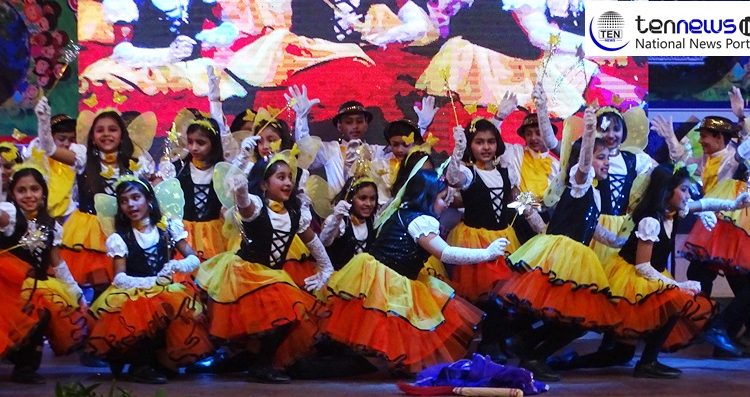 'Children around the World' Themed RyanUtsav 2018 mesmerizes students and parents at Ryan International Greater Noida
ROHIT SHARMA / ASHISH KEDIA
(24/02/18) GREATER NOIDA :–
It was the occasion of Montessori Graduation ceremony and Junior School Annual Day- Ryanotsav 2017-18 at Ryan International School, Greater Noida and the enthusiastic performances of beautifully dressed kids kept everyone bounded to their seats till the culmination of the daylong event.
The celebrations were bifurcated in two parts with kids from playgroup to 2nd standard exhibiting their talent in the morning whereas students of classes 3 to 5 set the stage on fire in the evening hours.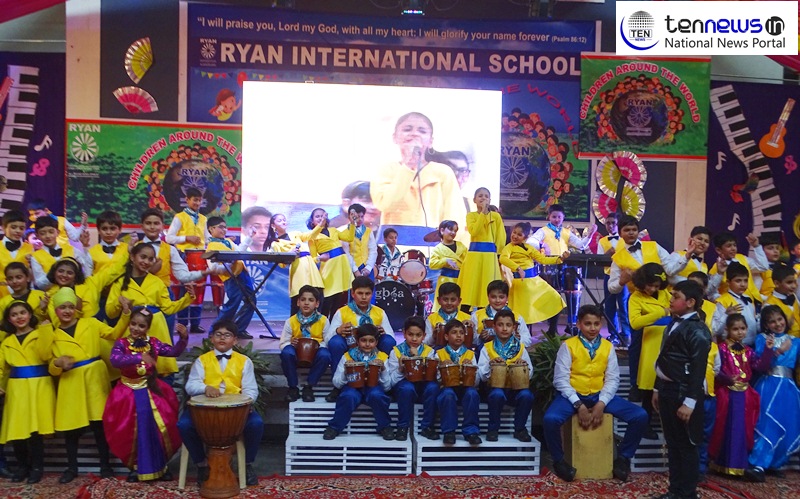 In the morning leg of celebrations, 1000 students of Montessori and Primary presented their fountain of talent during fantastic series of Welcome to the bee Musical and The Magic of Music. Mont students depicted that like bees co-operation is the key to success and that division of labour and thorough training makes us highly efficient. They also  showcased that -It's the team behaving as one, in pursuit of a common goal which brings success, not a leader laying down the rules. The students depicted their happiness through musical dance and drama based on instruments  , travel and Values that weave the very texture of life.
The theme of today's celebration was 'Children around the World' which was beautifully justified through dance, song and skit performances that were centred on different parts of the world. In the two hour long afternoon celebrations, the student groups from class 3rd, 4th and 5th presented various dance-dramas's that gave a glimpse of cultures from Africa, Norway, Japan, Indonesia among other places. The stories were framed as to give a social message while keeping the entertainment part intact through glorious performances.
While students presented flawless dance and song performances over the stage, their parents beaming with pride kept on capturing these moments over their phone. The enthusiasm and energy of students remained high throughout the event as loud cheers and claps kept on motivating them after every performance.
Montessori to class V were also felicitated with awards for their meritorious and excellent scholastic and Co scholastic achievement in various categories- Ryan Scholar award for excellence in academics, Star Performance award for sports, Oratory skills award, Nimble feet award for dance, Nightingale award for singing, Instrument Player award, Creative Finger  award, Student bagging maximum certificate award, Math Whiz kid award, 100% Attendance Award.
Many dignitaries were also present during today's function including Brajesh Singh –Business Head- Essel Utilities, Gajanan Mali- Founder- Tennews, Pradeep Sharma Khusro-Writer & Researcher, Ajay Prasanna –Classical Flute Player and others.
Towards the end of day long celebrations Ryan International Greater Noida's Principal Sudha Singh thanked all parents and teachers for their cooperation for making this event a grand success. A visibly ecstatic principal also stressed upon the need of such co-curricular activities for the all-round development of students.
The event culminated with a standing ovation by all audience members, who were rejoiced after witnessing the grand celebrations of the day.