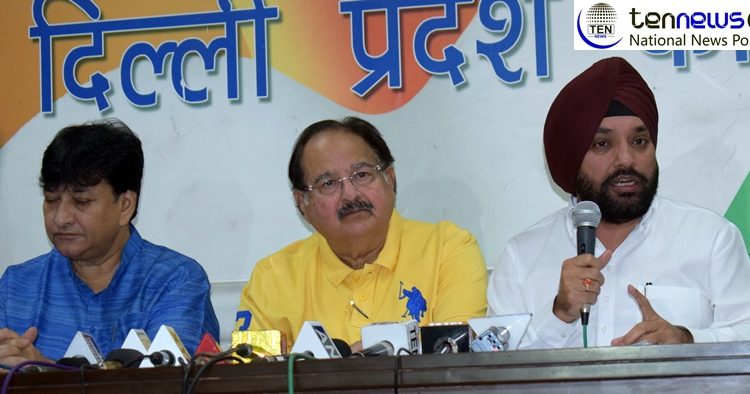 Congress alleges of serious scam in AAP's CCTV initiative, gives 24 hour deadline to come clear
Kashif Hasnain (Photo/Video) By Lokesh Goswami Ten News Delhi :
New Delhi: Hitting back to AAP on irregularities in CCTV installation project, Delhi Congress on Monday said that there are huge irregularities and loopholes in the tender and AAP is claiming it wrongly that standard procedures have been followed.

Mounting attack on AAP, former Delhi minister Arvinder Singh Lovely said, "Standard procedures are being undermined while framing and floating tender. This is happening for the first time when tender has been finalized first and later moved to cabinet for approval".
"Moreover, as per the report, the PWD minister has finalized the tender in 2017, however, minister has no power to approve or disapprove a tender but the department has", he added.
Countering AAP's claim that Congress wants to holdup the project, Lovely said, "The cabinet approved the project in 2015 and even after three years, AAP has failed to float a tender."
Later, Ashok Kumar Walia, who was also the longest serving Finance Minister and PWD minister of erstwhile Delhi government said, "General finance rules and EFC rules have been flouted. This a huge project and it deals with numerous departments.  Installing camera is not the issue but to maintain security, privacy and law enforcement is also a part of it, so it is surprising that there is no information to municipal corporation, police department and revenue department. They are major stakeholder who will look after the project after the installation."
However, LG has initiated a committee yesterday, which will look into the details of post-installation and who should be designated to implement the project effectively.
Meanwhile, former minister and senior party leader, Haroon Yusuf said, "The AAP government wanted to benefit a private player. Congress is giving them 24 hours of time to disclose the name of the company, if they did not do it we will do it tomorrow".