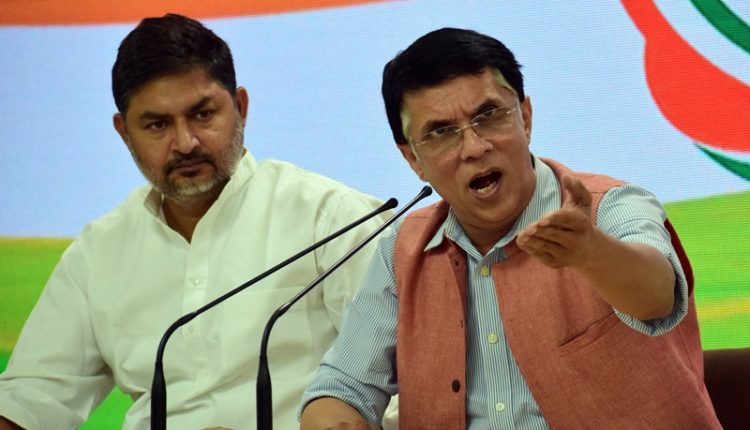 Congress questions PM Modi assets and raises doubts over "alleged irregularities" in property declared in Affidavit
Vishal Malhotra (Photo/Video) By Lokesh Goswami Ten News Delhi :

New Delhi: Congress Leader, Pawan Khera in a press conference said that, 'Chowkidar Ya Zamindar ?', is the title of today's conference."
"You all must have heard a sentence in the speeches of our Prime Minister that 'I came as a FAQEER and will leave like one, with my JHOLA ", said Khera and he himself reacted and added, "Now we are all aware of things that he will be carrying in his JHOLA and this conference is to reveal those things. "
"One PIL was registered yesterday in Supreme Court in which there were questions that were raised for the property of PM Modi in Gandhi Nagar which were really very important and astonishing", said Pawan Khera.
"You all must be thinking that why is this important. It is important because Modi has something about this property that is hidden from all of us. This property was alloted to him immediately after he became CM in Gujrat. And in 2007 elections, Modi revealed about this property through an affidavit which said that Plot No. 411, Sector 1, Gandhi Nagar is alloted to him", said Pawan Khera and asked media to keep these points in mind as something surprising will be happening in his further speech, he conveyed.
He further added, "Modi mentioned the size of this property as 326.22 square meters and obviously as the property was alloted to him so he only had to pay a nominal price of Rs 1,30,000 but based on the market rates, the property is now worth above Rs 1 Cr. Modi in the affidavit, also mentioned that some construction was carried out in the property with an expense of Rs 30,363."
Pawan Khera further added that in 2012 Gujrat elections Modi somehow vanished the mention of Plot No. 411 and a new property 401A was mentioned in his affidavit and he also mentioned that he owns 1/4th of this property which was of same size that was 326.22 square meters.
"And yet again in 2014 elections, there was again no mention of Plot No. 411, which is still the same", he added.
Pawan Khera further said that when land records were checked in Gandhi Nagar area, there was no land mentioned as 401A but Plot No. 411 was there. Plot 401 was found on the name of Arun Jaitley.