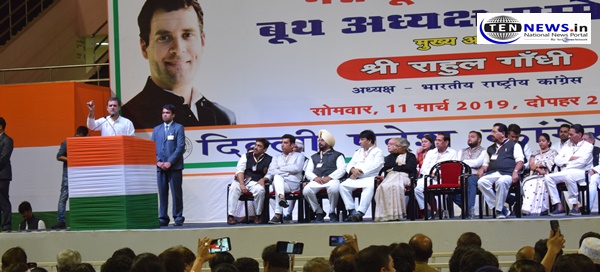 New Delhi: (11/03/2019) After the announcement of Lok Sabha Elections Dates, the Congress party has tightens thier belts.
On March 11, the Congress Party organised a mega event " Mera Booth – Mera Gaurav, Booth Ashayksh Sammelen" at Indira Gandhi Indoor Stadium, which was joined by around 14,000 booth presidents, and Congress party workers.
Though the event was scheduled for 4 pm, the Congress supporters fully occupied the stadium hours before the arrival of Congress Chief Rahul Gandhi.
Following defeat in 2014 Lok Sabha Elections, Congress Party believes that strengtening booths will automatically strengthen the party.
The mega event aims to bridge the communication gap between party's workers and Congress leaders through communication with booth presidents.
Addressing the party's booth president, Congress Cheif Rahul Gandhi said that PM is coward, RSS speads the ideology of fear and hate. It's upto you (citizens of India), what India you wants Gandhi's or Godse's India.
Congress Chief also said that if the party's elected to power, it will provide minimum income guarantee across all sections of society.
RaGa also slammed ruling Party's farmers scheme which enables farmers to get Rs 6000 per year, saying that it will provide only Rs 3.5 per days to farmers.
Party's chief also stated that in upcoming elections the India's old party will get seven out seven seats in Delhi.
Rahul Gandhi also targeted NDA government on demonitisation and GST.