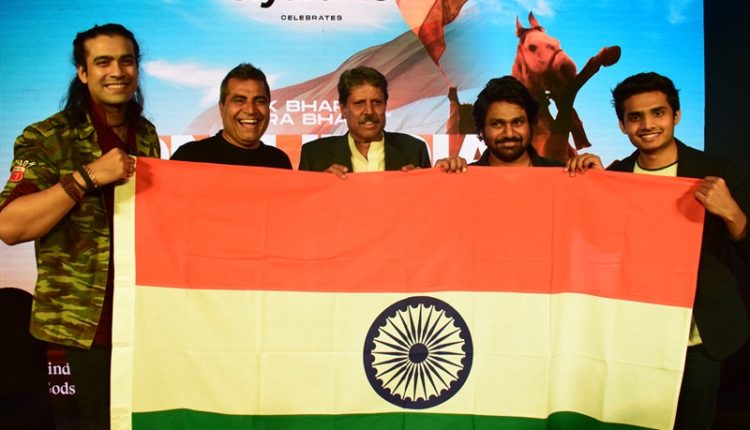 Cricket Legend Kapil Dev Promotes Anthem4Good "One India My India " in National Capital!
Prerit Chauhan (Photo-Video) Lokesh Goswami Tennews New Delhi :
New Delhi: For most Indians who watched the broadcast on Doordarshan, the opening lines of Mile Sur Mera Tumhara, belted out by the legendary Hindustani classical vocalist Pandit Bhimsen Joshi continue to stand and win our hears with the test of time.
Today, Siyaram's launched an Anthem4Good "One India My India " In the presence Of cricket legend Kapil Dev. Director and Co- Producer of the song , Shailender Singh , Singer Jubin Nautiyal ,Music Composer Mithoon and Debutant Godswill were also present at the event. The event was held at Shangri-la Hotel, New Delhi.
The duo is co- produced by Shailendra Singh and Mithoon, and sung by Jubin Nautiyal and Godswill.One India My India (Ek Bharat, Mera Bharat), Anthem4Good aims to unite all 1.4 billion Indians across the planet in Celeberation and oneness.The song is supported and celeberated by Siyaram's who has always hounoured India with the tagline, "Come Home To India".
Present at the event, Director, Shailendra said, "This video is shot in different parts of the country and all the people seen in the video are candid people , they are not actors or trained artists.The very thought of the video is that we all are one. "
Kapil Dev speaking on the occasion said," After watching the song I felt, we are blessed to be in such a diverse country, where we have so many cultures and languages which makes us unique. The song is beautifully composed and portrays the uniqueness of thus country."
Music Composer Mithoon said, " We have always been taught thay there is no other place like India. In this video song we celebrate the spirit of our culture and diversity of the country. India is beautiful painting and every colour denotes a different culture. So this is the essence of this song."
Singer Jubin Nautiyal said, "This song has been a one and a half year Journey for me. It puts together a lot of great things that unfies us. I want to give one message to my generation that this is where we came from and we should never forget that."