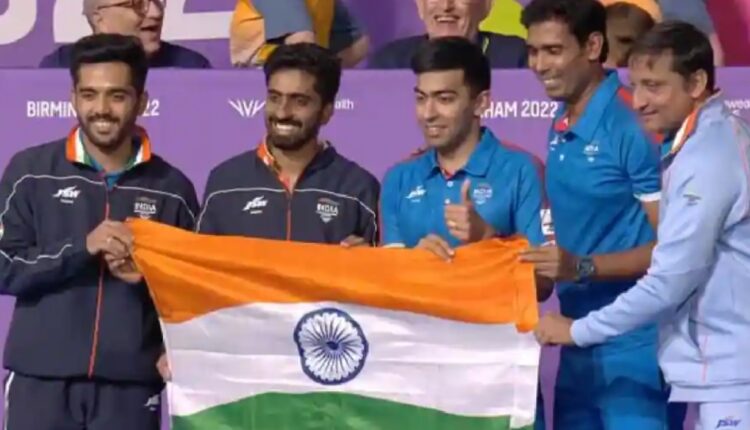 2nd August 2022 : The Indian men's table tennis team on Tuesday defeated Singapore 3-1 to win the gold medal at the 2022 Commonwealth Games in Birmingham. India won its second gold medal of the day and fifth overall at the competition with this achievement.
The team got off to a terrific start with Harmeet Desai and Sathiyan Gnanasekaran in the Men's Doubles match, which was the first tie of the competition. To take the early lead in the match, they defeated the Singaporean duo of Yong Quek & Yew Pang 13-11, 11-7, and 11-5. However, India had a tough fight on its hands in the second tie, which was the singles match between Sharath Kamal and Chew Zhe Yu Clarence.
He was defeated 11-7 in his first game. But in the second game, the 40-year-old Indian veteran came back. He took the lead early on (4-1) and held it until Clarence gave him a late scare, tying the score at 10-10. Sharath Kamal won it 14-12 and tied the game at 1-1 by maintaining his composure. In the third game, which Clarence won 11-3, Sharath Kamal was totally outplayed.
In the fourth game of the tie, which was fiercely contested, Sharath Kamal had a 6-5 lead at the first half. He only managed to score three more points, though, as the Singaporean won the match and tied the final score at 1-1. In this edition's Men's team event, it was India's first-ever loss in a tie. En Koen Pang forced Sathiyan to fight hard in the following singles match. The Indian prevailed 12-10 in a close first game. The following game, he was defeated 7-11. Sathiyan was able to get his act together as he won the following two games to give India a 2-1 lead in the match.
Chew Zhe Yu Clarence, who had earlier defeated Sharath Kamal in the tie, then faced Harmeet Desai. Desai got off to a flying start by winning the first game 11-8. The Indian gained momentum after that, fully dominating Clarence and cruising to victories in the following two games to decide the match in India's favour. The Indian men's team has now won three gold medals overall at the Commonwealth Games.