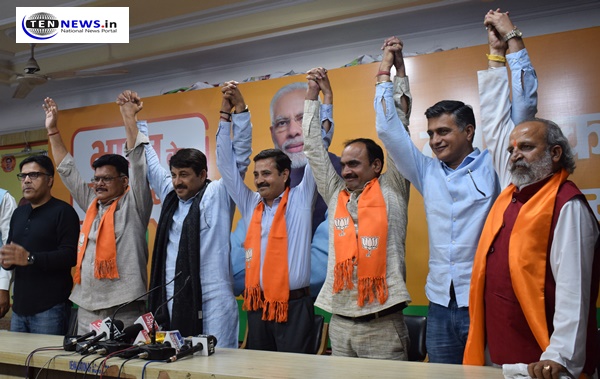 Dalit leader Balveer Singh joins BJP in Presence of Delhi BJP Chief Manoj Tiwari
New Delhi: On March 30, several local opposition leaders today joined Bharatiya Janata Party in the presence of Delhi BJP state president Manoj Tiwari at Delhi BJP state headquarters in New Delhi.
Tiwari promised the leaders that the saffron party will always support them in executing party's initiative in the national capital.
Balveer Singh — who contested Delhi Assembly 2015 polls on a Bahujan Samaj Party Ticket– joined the saffron party, Singh is local leader with strong presence in his area and might be able to secure votes in the favour of BJP in upcoming Lok Sabha elections.
While, two other leaders who represents their community also joined the party.
Among the three, the party hopes that Singh was a candidate and holds strong political structure in Delhi, if Singh will advertise for the BJP then, the leader will be successful in magnetising dalit community towards BJP.
On the other hand, Singh is hosting a public gathering of four thousand people in his area to support PM Modi.
Ahead of LS elections, the saffron party is lacking nothing behind to win all the seven Lok Sabha seats as the Congress and AAP may form an alliance in the National Capital, if alliance may form then it will make the party political game more challenging for the saffron party.