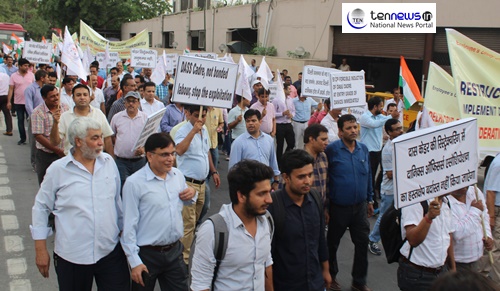 New Delhi: Hundreds of employees of Delhi Administration Subordinate Services (DASS) on Monday held a silent march from Delhi Secretariat to Rajghat demanding restructuring of their cadres, lack of which has obstructed their promotions
The restructuring has been recommended by a three-member committee headed by Delhi finance secretary S N Sahai, but it has not been implemented yet.
"Our promotions are overdue since 50 years and despite recommendation by SN Sahai committee neither LG nor Delhi government is taking any step to implement it," said leader of DAAS DN Singh.
He further said, "We are launching a week long protest to register our disappointment and build pressure on government and LG."
The Delhi government employees are divided into three groups — IAS, DANICS and DASS. After IAS (AGMUT cadre) officers, DANICS are considered the second highest cadre. DANICS officers are also appointed through UPSC examination, while DASS board appoints its employees.
"Despite decades of experience, DASS employees remain at lower rungs of bureaucracy. If restructuring is done, they can become deputy secretary, joint secretary and special secretary — posts currently enjoyed by IAS and DANICS officers," said Deepak Bharadwaj, general secretary, Delhi Government Employees Welfare Association that represents DASS employees.
Bharadwaj claimed that DANICS officers have always obstructed efforts to restructure DASS cadre. The rules said the DASS employees can get these posts after restructuring