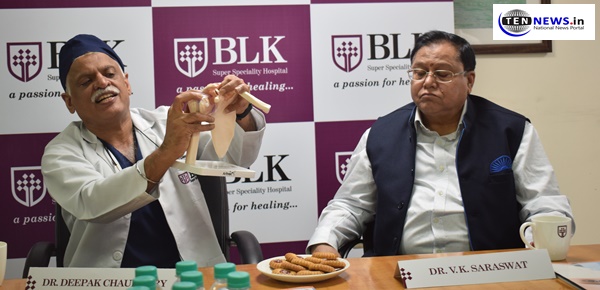 Deepak Choudhary briefs on 'Prolonged Shoulder Pain', which may be Rotator Cuff Tear!
VISHAL MALHOTRA/ JITENDER PAL- TEN NEWS
New Delhi : (17/04/2019) It was a normal shoulder pain for him, not to be worried upon much, but when it continued for six weeks a sense of medical urgency prevailed upon Dr VK Saraswat, eminent scientist and Member, NITI Aayog. He knew Dr. Deepak Choudhary Director Arthroscopy and Sports Medicine at BLK Super Speciality Hospital well, who after clinical investigations, diagnosed it as a rotator cuff tear.
With early diagnosis and conservative treatment (physiotherapy), Dr. Saraswat got rid of shoulder pain and is now actively doing routine chores. Dr Saraswat (66) is not alone who got shoulder pain resulting from rotator cuff tear confused with frozen shoulder.
A national level young wrestler from Bhiwani, Haryana, Hemant (18) had to undergo minimal invasive Arthroscopic surgery to get rid of his shoulder pain. Last year, during a wrestling competition, he had severe shoulder injury which was previously diagnosed as frozen shoulder and took steroids for relief. But pain continued and he could not move his hand. On advice of a family friend, he consulted Dr Choudhary and got the correct treatment. After Arthroscopic surgery, now he is planning to go back to wrestling mat with full strength.
"Normally in such cases patients consults doctors and physiotherapists who diagnose this condition as frozen shoulder and the patients undergo some steroid shots in the shoulder and many sessions of physiotherapy without much relief. Hemant's case was similar and timely diagnosis detected the problem of rotator cuff tear and we performed a minimally invasive surgery (Arthroscopic Rotator Cuff Repair), where the torn tendon was repaired back to the bone using some imported anchors. It has been 6 months after surgery and he is pain free and has regained normal strength in his shoulder. Dr Saraswat got rid of pain with conservative treatment and there was no need for a surgery," said Dr Choudhary who is credited with performing over 12,000 complex Arthroscopic knee and shoulder surgeries.