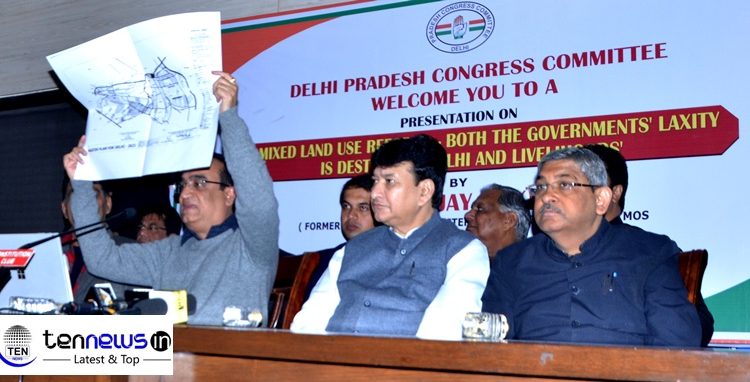 KASHIF HASNAIN (PHOTO/VIDEO BY SAURABH SHRIVASTAVA)
New Delhi: The prevailing sealing chaos in Delhi has kicked up a storm among political parties in national capital. All three major parties have indulged in war of words to shift the blame.
Delhi Congress chief Ajay Maken came down heavily on both opposition parties (BJP and AAP) for this prevailing sealing menace.

While addressing a press conference in Constitution Club of India in presence of traders association on Thursday evening he said, "The city of traders is choking in their (AAP and BJP) political vendetta." He advised, both the parties should wipe away their differences and find a common platform to deal with sealing issue.
Referring his Government achievements and their Master Plan he said, "The government has failed to carry on Congress government Master Plan which was formed in 2006." He shown Congress's achievement through an hour long Power Point presentation.
Later he said, "our party sand with the traders and soon we will meet with LG, Anil Baijal, CM Kejriwal and Union Government for immediate solution."
During the press conference he highlighted a slew advises —
The Union and State government should immediately intervene in the Supreme Court.
Clarify the anomalies
Increase the FAR for Local Shopping Centres
De-seal the basement and other premises immediately
Clarify or amend the MPD 2021
Delhi government should immediately notify 351 roads
Union government should bring an ordinance