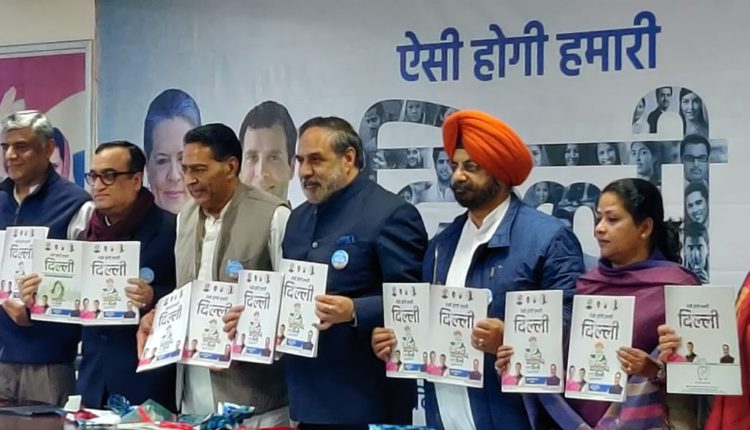 Delhi Congress releases Election Manifesto focusing on Nyay and Pollution
Vishal Malhotra / Harinder Singh
New Delhi (02/02/2020) : As the Delhi Assembly Polls are coming near, every political party active in Delhi, is trying to get delhiites attracted towards their Political Promises.
Delhi Congress today launched its election manifesto, just a week ahead of Assembly Polls.
//youtu.be/WUmvcyNUTjU
On one hand, the ruling AAP in Delhi is very positive and is ready to re-design history when we see them saying that it would again set record and will cross 67 seat-limit for AAP this year.
While on the other hand, Delhi Congress president Subhash Chopra and party leaders Anand Sharma and Ajay Maken have released the party's manifesto for upcoming Delhi Assembly elections, today.
In its poll manifesto released ahead of Delhi assembly elections, the Nyay yojna has found a mention once again. The grand old party has also promised free bus rides to senior citizens, free education from nursery to Phd for girl students in govt institutions, five new AIIMS-type super-speciality hospitals, 20% of the budget to tackle pollution and 200 units free electricity for all.
Delhi Chief Minister Arvind Kejriwal's Aam Aadmi Party is also likely to release its manifesto, two days after the BJP came out with its 'Sankalp Patra', promising wheat flour at Rs 2 per kg for the poor, cycles and scooties for girl students as well as an 10 per cent increase in the health and education budget annually.