Delhi dyanamos F.c.to set UP Youth Football Academy in Greater Nolda Authority MOU was signed today
GREATER NOIDA LOKESH GOSWAMI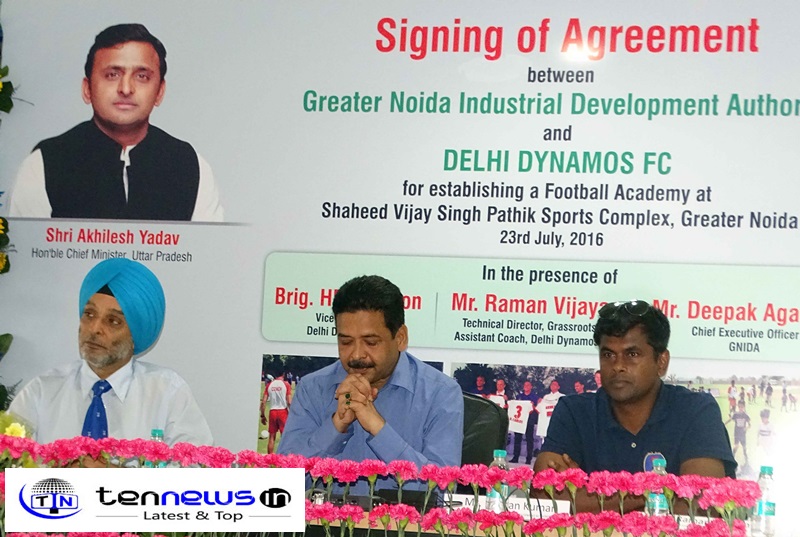 Delhi dyanamos F.c.to set  UP Youth Football Academy in Greater Nolda Authority  MOU was signed today  
the delhi dyanmos Football Club, in its endeavor to strengthen its 
grassroots development  programme. has tied up with Shaheed Viiav Singh Sports Complex to identify and nurture young telent in 
 Uttar Pradesh.
under this  path-breaking initiative, DDFC will set up a state of the art football academy at the sports complex 
 it Will be managed by the Greater Noida industrial Development Authority (GNiDA), with DDFC 
provrding all the technical support. 
the MOU was signed today, with the commitment to make the academy functional from September 1,2016 
Deepak :Aggarwal, CEO of GNlDA, who addressed the press conference, looked elated and felt that Uttar":
Pradesh  youth needed an academy like this to harness their footballing skills.
it is a great pleasure to partner with Delhi Dynamos. All of us stakeholders share the same vision, of 
developing the sport and producing future football champions from this academy. We firmly believe 
that the academy will contribute towards the societal, economic and cultural development of the 
region," Aggarwal said. 
Delhi Dynamos president Mr. Prashant Agarwal expressed his pleasure about this association and said'ie
it is DDFC's aim to help create a strong pool of young footballers. Academies such as the one will 
facilitate proper training and guidance to budding young talent in the state of Uttar Pradesh. UP. is a 
state that is very close to our heart and this partnership is only the start to a long fruitful association.
DDFC, a Delhi-based club which plays in the Hero indian Super League, has shown'that its mmitment
is towards football, rather than its own region, by looking to promote junior talent in. Uttar Pradesh. The 
club, of course, also shares a very cordial relationship with the UP. Government, having received a lot of 
support and encouragement from none other than its honorable chief minister, Shri. Akhilesh Yadav.
in fact the team got the rare opportunity to unveil its team kit in front of the iconic Taj Mahal at the 
start of the Hero Indian Super League, a first in the history of indian sport. Shri. Akhllesh Yadav also 
invited Mr Gianluca Zambrotta, the newly appointed head coach of the club, to Lucknow to Wish him 
luck for the upcoming seaSOn.
AbOUt Shaheed Vijay Singh Pathik 
sports complex
is a word class multi facility complex was a set up by the GNIDA WITH A TOTAL INVESTMENT  of INR 130 Crores, Spread overd approximately 40 acres,it houses an international style cricket graund which serves as the home ground to the afghanistan national cricket team apart from that ,yhe complex also boasts of badminton courts synthetic tennis courts volleyball courts basketball courts a akating ring a gym an olympic size swimming pool a football ground and a 400m athletics track and a state of the art multi purpose indoor stadium