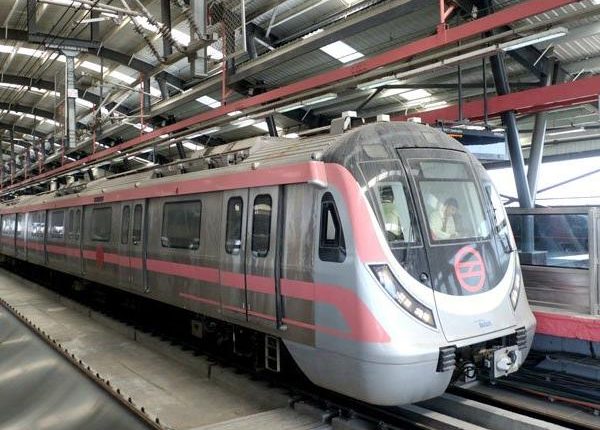 Delhi Metro's Pink Line route to open by Diwali
Rohan Sachdeva
The Commissioner For Metro Rail Safety (CMRS) will inspect the Shiv Vihar-Trilokpuri Sanjay Lake section of Delhi Metro's Pink Line on 20 October, paving way for its opening soon.
The 17.86 km-long elevated section in east Delhi consists of 15 elevated stations, three of which are interchange facilities, a senior DMRC official said.
The stations are Trilokpuri Sanjay Lake, East Vinod Nagar-Mayur Vihar-II , Mandawali-West Vinod Nagar, IP Extension, Anand Vihar ISBT, Karkardooma, Karkardooma Court, Krishna Nagar, East Azad Nagar, Welcome, Jaffrabad, Maujpur- Babarpur, Gokulpuri, Johri Enclave and Shiv Vihar. The section will be inspected by the CMRS Saturday, he said.
"The main highlight of this section will be the presence of three interchange stations —Anand Vihar (with Blue Line), Karkardooma (with Blue Line) and Welcome (with Red Line)," he said.
After the opening of this new section, the Delhi Metro network will expand to 314 313.86 km, the DMRC said.
Once inaugurated, which is expected soon, it will leave just the Lajpat Nagar-Trilokpuri corridor unopened. Incidentally, a small section near Trilokpuri is facing a roadblock, due to issues raised by local residents, which the metro has been resolving for a long time.
The Shiv Vihar-Trilokpuri Sanjay Lake stretch is part of the 59 km-long Majlis Park-Shiv Vihar corridor (Pink Line) which falls under the Phase-III network of the DMRC.
On 6 August, the Majlis Park-Lajpat Nagar corridor was inaugurated, taking the Pink Line span to 29.66 km, and the entire operational span of the DMRC to 296 km with 214 stations.
The first corridor of the Pink Line, spanning over 20 km, from Majlis Park to Durgabai Deshmukh South Campus, was opened on 14 March, connecting north and south campuses of the Delhi University on the DMRC network for the first time.