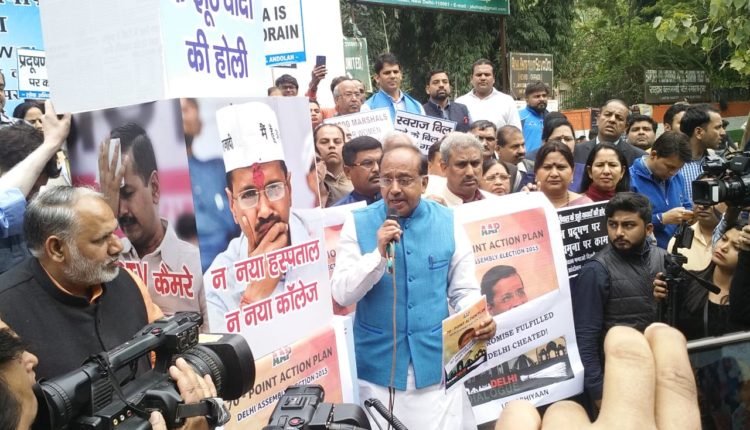 New Delhi: (13/03/2019) The political tussle between Aam Aadmi Party and Bharatiya Janata Party is heating up even after the announcement of Lok Sabha elections dates by the Election Commission.
In a hope to make political land more fertile, both the parties are leveling allegations on each other, no matter these allegations are exist in real or not.
Both Party's Press conference lacks the agenda of upcoming elections and full of allegations in each other.
Today, Central Minster Vijay Goel burns Aam Aadmi Party's 2015 Elections Manifesto in New Delhi.
Hundreds of party workers gathered at Jantar Mantar to express their aggression against Delhi CM Arvind Kejriwal and his Government for not fulfilling the promises that were mentioned in the party's manifesto.
Slamming AAP Government, Vijay Goel said, " Delhi people elected AAP Government with trust at that time AAP released a 70 point manifesto, from past four years Kejriwal has not fulfilled even a single promise.
"Kejriwal promised to install 15 lakh CCTV cameras and even one lakh cameras were not installed in the national capital. The leader also promised free WiFi which was not fulfilled. Kejriwal has not worked on the increasing pollution in the national capital which is a very concerning issue", the minster added.
BJP workers also demonstrated thier anger through placards mentioning, "500 Naye School, Janta ko banaya phool" and
"Na Naya school, Na Naye aspataal – Kejriwal Hatao- Dilli Bachao".
The people also raised slogans slamming the Delhi CM and the Government.