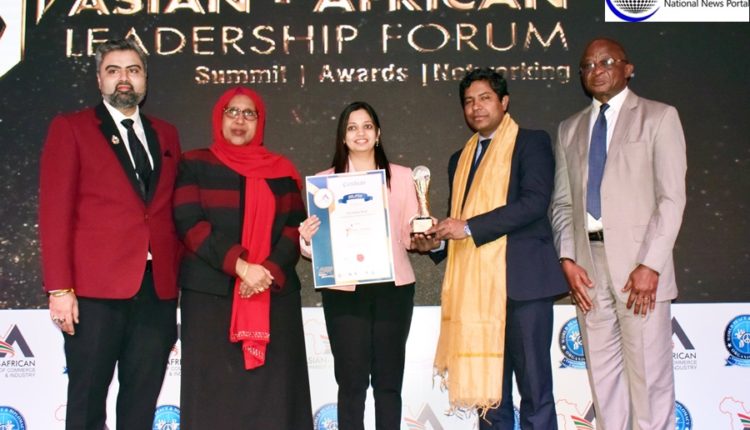 Diplomats deliberate on business opportunities in Asia and Africa at 2nd Asian African Leadership Forum
Saurabh Kumar/Lokesh Goswami Tennews New Delhi :
New Delhi: Today, Asia African Chamber of Commerce and Industry (AACCI) organized the 2nd Asian African Leadership Forum at New Delhi. The platform brought together the diplomats of Asian and African countries who shared their strategies of becoming a successful business operator in Asian-African countries.
Asian African Leadership Forum is an annual affair, acting as a trade & business promoting chamber, supporting SMEs and industries by means of representing them as bilateral chamber for the Asian and African region and help them to build better economic growth and sustainable business.
The program began traditionally with lightning of the lamp followed by the folk music, played by the artists from the African countries, presenting the vibrant culture of Africa.
Speaking at the event, AACCI Founder & Chairman Dr. G.D Singh first thanked everyone for their presence. He then detailed about the accomplishment and the growth oriented network that has been developed by the AACCI across the globe.
The newly appointed President of AACCI and High Commissioner to Nigeria Mahesh Sachdev talked about the geographical connection of India & Africa.
"As we all know that the present India is a part of Gondwana Land that got drifting from Africa and when it collided with Asian plates, the Indian peninsula came in existence."
Further Praising the efforts of AACCI, he said, "The global presence of AACCI demonstrates their efforts. As my self has got this new responsibility of President for India Chapter of AACCI, I too with my efforts will try to build up the organization. We would like to build up a hub of economic synergy in India & Africa."
High commissioner of Malawi George Mkondiwa in his address signified the relationship of India & Africa and said "Asia & Africa are married to each other and working together both can pace up the development. If you have money, but you sideline Africa then you are not good at business as there are abundant of opportunity there which is yet to be explored."
The AACCI also presented awards to the Individuals and the organization who are leading the line in their respective industry or category. Many of the award recipient interacted with Ten News and shared their journey.
Apart from this, The Passion Vista Glamour & Style Awards, Punjabi 2019 were also given to Punjab Film Industry, popularly known as "Pollywood", a rapidly expanding and immensely creative film industry which has produced many films which have received international recognition & fame.
Video Highlights Of Asian African Chamber Of Commerce Conclave & Award Function
Photo Highlights of Asian African Chamber of Commerce Conclave & Award function