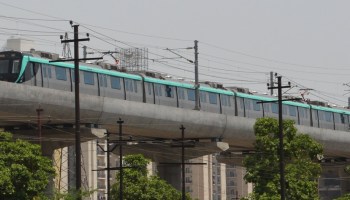 DMRC plans to cut travel time between Greater Noida and Jewar to 25 minutes
Saurabh Kumar
Greater Noida :  The Delhi Metro Rail Corporation (DMRC) has started the work to cut the travel time between Knowledge Park II and the upcoming metro near Jewar Airport. DMRC is planning to increase the speed of the metro up to 120 km per hour so that the stretch between Greater Noida and Jewar can be accessed in 25 minutes. The 32.3 km metro corridor will be mostly elevated.
DMRC is looking for three options – Metrolite, Metro Neo and Metro Express for the project. DMRC was asked to prepare a fresh report after the earlier one made in 2019 was rejected on grounds of travel time. To cover a distance of 35.6 km, the earlier DPR had suggested 25 stations along the route.
Speaking to the English daily, Shailendra Bhatia, OSD at the Yamuna Expressway Industrial Development Authority (YEIDA) said, "For us, the priority is to connect Jewar with the Knowledge park 2 and the rest of the NCR region before the commercial activity begins there. For now, there will be only 5 stations on the route which will be extended as per the requirement in future."
Once the metro route crosses Greater Noida city, the elevated portion of the corridor will run parallel to the Yamuna Expressway. At present, it takes 45 to 50 minutes to cover the distance between Greater Noida and Jewar by car. The metro will bring down the travel time and help in decongesting the heavy flow of traffic on Yamuna E way.