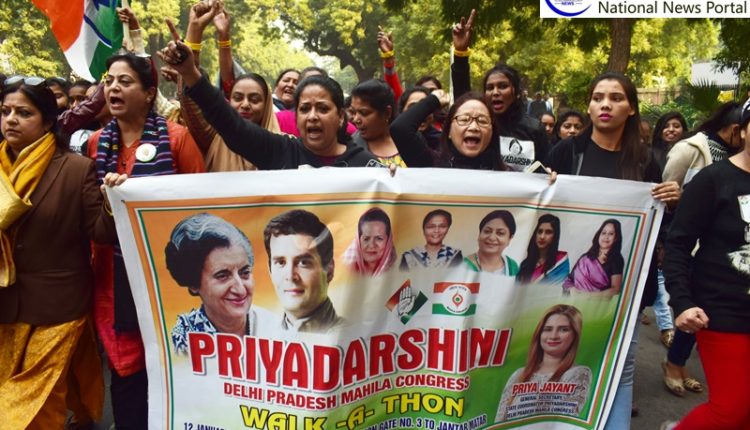 DPMC organises short marathon In Delhi : "Control in pollution is must for healthy lives", says Sharmistha Mukherjee
Vishal Malhotra (Photo/Video) By Lokesh Goswami Ten News Delhi :
New Delhi (12/01/2019) : Keeping the boost in pollution in the national capital in mind, DPMC organised a 'Short Marathon'.
This marathon was just to make a reminder to Delhi and Central Goverment of the degrading environment in National Capital.
DPMC President Sharmistha Mukherjee was leading the marathon with The Priyadarshini Group which holds the young women in Delhi and across the nation.

Sharmistha Mukherjee while addressing the crowd said,
"When odd-even system started for the first time in the capital, people actively participated and followed the instructions for the good cause of controlling pollution in the capital. Now, when controlling pollution is one the most important task to be accomplished, there are no such actions being carried out which can bring any change. "
Ahead of the 2019 Lok Sabha polls, the Congress is making an all-out effort to consolidate its support base through Project Priyadarshini, a team-building activity to reach out to women aged between 18 and 35 through social activities.
Named after former Prime Minister Indira Priyadarshini Gandhi, the project was launched on November 19 when her 101st birth anniversary was celebrated, in New Delhi.

Speaking to Ten News Sharmistha Mukherjee said,
"Priyadarshini Group focuses on bringing changes for the betterment of Indian Society and especially when it is about women. Today, we are here just to make CM Arvind Kejriwal feel bad about his ignorance regarding pollution in Delhi. He started Odd-Even concept and thought that controlling the usage of vehicles for two months will stop the increasing pollution. We demand the working Govt to keep bringing such initiatives in order to control the sky-touching pollution in Delhi. "