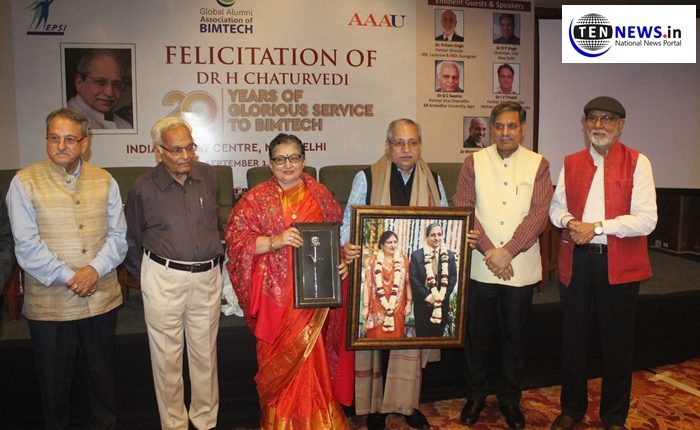 New Delhi (01/09/2019) :   Padma Shri Dr Pritam Singh calls him "leader of leaders", his colleagues take joy in learning from his impeccable journey and his students are everyday inspired to do better than ever by listening to his pearls of wisdom- We are talking of none other than Dr H Chaturvedi, Director BIMTECH.

Born and raised in Mathura, Dr Chaturvedi has worked hard to enhance the quality management education scenario of the country.
Hence it was no wonder that on the occasion of him completing two decades of association with BIMTECH, a galaxy of well known academicians from throughout the country gathered in New Delhi and celebrated the work and the professional journey of Dr Chaturvedi.
The felicitation event was presided by Padma Shri Dr Pritam Singh , Former Director , IIM Lucknow & MDI, Gurgaon who spoke eloquently about his 25 years of association with Dr H Chaturvedi.
"I knew him first while working as the director of MDI, Gurgaon. At that time he was working in the regulatory body and had the vision of working as an enabler instead of regulator. Learning together and working together has been one of the foremost admirable quality of Dr Chaturvedi", said Dr Pritam.
Speaking further, former IIM Director elaborated on the 'giving' nature of BIMTECH Director and said, "Sometimes I see him as a Chanakya, in a positive sense. How to take people along and make them work is a great ability of him which is worth learning. He even turns one of the most difficult situation into his favour. He is a great fighter."
Though he is a marketing professor but I believe he is also a great counsellor, he added.
NHRDN Director General Dhananjay Singh was one of the early speakers who threw spotlight on journey and achievements of BIMTECH Director and said, " Dr Chaturvedi is an institution in himself and he has carved many leaders which are doing immensely good in their respective fields. I wish that his blessings on young India continues and he will keep guiding and inspiring more and more people".
Speaking next Dr Bhimaraya Metri , Director , IIMTrichy said, "I am closely associated with Dr Chaturvedi for last 15 years, since 2005. He is a visionary leader and has contributed immensely towards raising the bar of management education in India."
"BIMTECH started as small initiative and he has taken it to great heights. He built both physical as well as knowledge infrastructure in the campus", he added.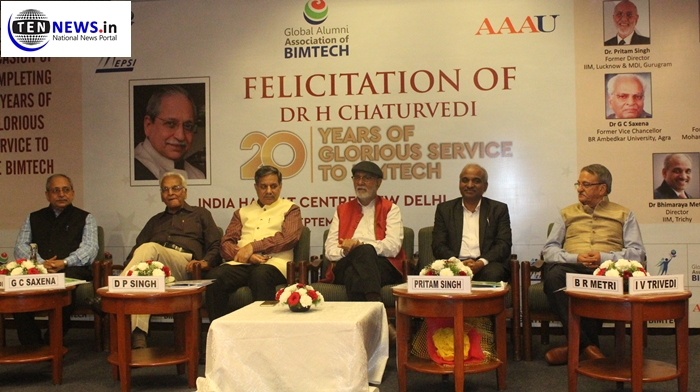 Dr Metri also recalled BIMTECH director's contribution towards averting the crisis being faced by management institutions by establishing EPSI and bringing different institutions at single platform.
Dr GC Saxena Former Vice-Chancellor B R Ambedkar University, Agra begin his address on a humorous note and said that he has worked so much in just 20 years that Global Alumni Association of BIMTECH decided to felicitate him even before his retirement.
Dr Saxena then went on to recall his journey starting from Balwant Rai college in Agra and then went onto serve in different position including AICTE, EPSI Alternate President and as we all know Director of BIMTECH.
"He joined AICTE when the statutory body was not in very good shape but with his impeccable stregth, honesty and labour he did justice to the post . He added that from small BIMTECH building at Pushp Vihar to Greater Noida's flourishing campus, he has worked really hard in all positions that he has served".
Dr IV Trivedi Former Vice-Chancellor Mohan Lal Sukhadia University also recalled his association with the BIMTECH Director and said," A simple and humble man, Dr Chaturvedi keeps on travelling across the country to serve the field of education. He finds best in all individuals and crafts them to their best ability. He has taken management education of the country to a great height. Aspiring for best, he believes there is always room for improvement and keeps working in that direction. He is always thinking of some or the other innovation."
Kamal Singh, Director UN Global Compact Network outline the persona of Dr Chaturvedi of contributing beyond business and working for the society.
UNGCN Director said, "I feel honoured to have known Dr Chaturvedi and BIMTECH for so long. His vision of creating an aspirational institute has inspired one and all. His thought leadership and vision of leaving for the society matches with the agenda of United Nations development vision. I have learnt from him the ways to take along all people and consistently work for quality. He knows how to work confidently even in the most uncertain situations and connects dots to yield best results".
Dr DP Singh Chairman University Grants Commission, New Delhi, also spoke at the occasion and said, "This is important that such achievements and journey must be rewarded as they work as a motivational factor. I have known him for about 42 years. He was a popular orator even during his initial days. His values, leadership qualties, dedication and honesty inspire one and all".
The evening came to an end with Dr Chaturvedi thanking all speakers and participants for organising and participating in this memorable evening.
"Friends and colleagues from different parts of the country including from Mathura, Delhi AICTE and BIMTECH, Greater Noida. I was offered the job of BIMTECH Director in April 2003 and I reiterate my commitment to keep working for BIMTECH for my whole lifetime. I am grateful to Global Alumni Association of BIMTECH , EPSI and Alumni Association of Agra University (AAAU) for facilitating a beautiful and memorable evening today", Dr Chaturvedi said.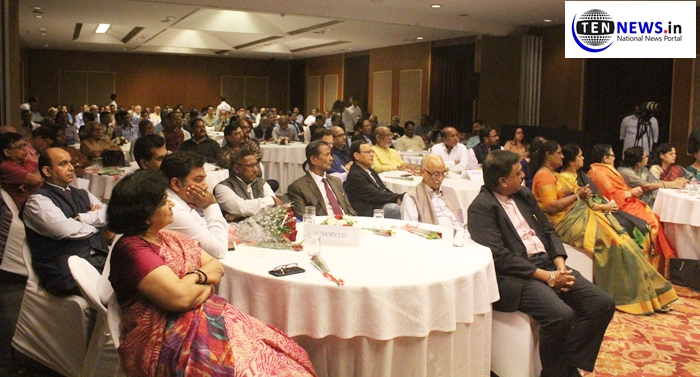 "My feelings today can only be voiced in Brij Bhasha or the language of 'Brij' which is also my birthplace- Deh siva bar mohe eh-hey subh karman te kabhu na taro. Na daro arr seo jab jaye laro nischey kar apni jit karo. Arr Sikh ho apne he mann ko, eh laalach hou gun tau ucharo. Jab aav ki audh nidan bane att he rann me tabh joojh maro", Dr Chaturvedi said.
The event was flawlessly anchored by Professor Saloni who also recalled her five years of association with BIMTECH and thanked Dr Chaturvedi for inspiring and guiding all faculty members and students of the BIMTECH.
The evening was very well attended by the house full of academicians , faculties , students and dignitaries from all walks of life & social icons from all over the country and some from as far as Dubai .
//tennews.in/video-highlights-celebration-of-dr-h-chaturvedis-20-years-of-glorious-service-to-bimtech/
//tennews.in/photo-highlights-celebration-of-dr-h-chaturvedis-20-years-of-glorious-service-to-bimtech/