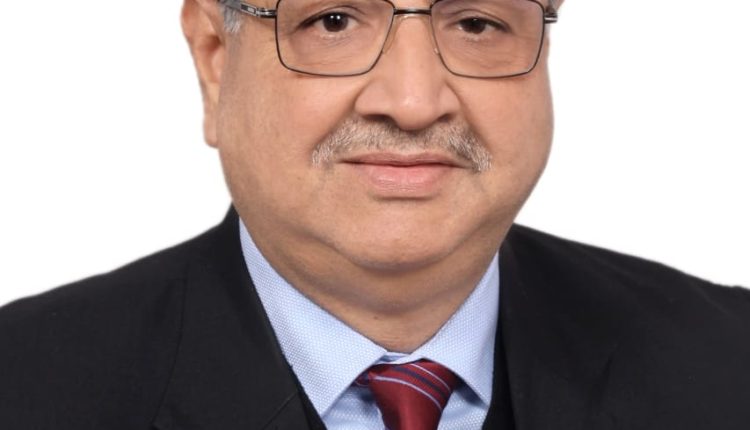 Dr Sushanta Basu- The Relentless Crusader and a True Philanthropist
By Bipin Sharma
Since time immemorial Medicine has been regarded and hailed as the noblest of all professions.
While sporadic rise in incidents of medical negligence coupled with soaring healthcare costs and corporatization of the Healthcare Industry has indubitably dented the glorious image of the overall Healthcare Industry, there are Doctors who are still considered as "Divine Emissaries".
Talk about such outstanding Doctors, and the first name that strikes the mind is that of Dr Sushanta Basu (MBBS, PG Certified on Health & Family Welfare Management, MBA (HCA) from FMS, Delhi) who has done humanity proud with his selfless service to mankind for the last four decades.
His biggest virtues are Integrity and a humongous experience of 41 long years of Health Administration.
Unlike those who flaunt a long celebrity list of patients, Dr Basu feels privileged that his patient directory comprises the "aam aadmi" of the city especially the ones from the EWS strata.
In his illustrious career, Dr Basu never went for any lucrative offers for working overseas, as he always nurtured the desire of serving his own Motherland. He feels extremely fortunate that he has lived his dream by devoting himself for his countrymen all these years.
This is precisely why he feels that his biggest reward as a Medico professional has been the blessings from his countless patients whom he has treated and cured all these years.
His motivation has been heeling the sick and the injured, and bringing a smile on the faces of those in need and pain.
In the forthcoming Delhi Medical Council Elections 2020 next month, 45 doctors are in the fray contesting for 8 coveted posts of the governing council of the State Medical Regulator.
Dr Basu has filed his nomination for Member, Delhi Medical Council as he strongly believes that he can make a marked difference to the existing state of affairs. The fact that DMC which is primarily a council of medical practitioners, has no representation from MCD, is what inspired Dr Basu to throw his hat in the rang for the forthcoming DMC Elections slated to be held on Sunday, 8th March'2020 at IARI, Pusa. All those with a valid registration with DMC are eligible for voting in these elections.
Sharing more on the avenues where he would focus, Dr Sushanta Basu says, "If elected as a member of the prestigious DMC, my emphasis will be on ensuring safety measures for practicing and resident doctors at their work place keeping in mind the growing incidents of vandalism and violence against Doctors. Undertaking a steadfast drive to rid the system of Quackery will be my top priority. Added to this, we will leave no stone unturned in reviving the glorious image of the medico professionals by undertaking some robust measures, and spreading the awareness among medical practitioners for adhering to the mandatory code of ethics. As a team, we will continually strive to incorporate the valid views and suggestions of every Doctor in order to make DMC a real inclusive body, in reality. Last but not the least, we will deliver solutions to the core issues concerning the doctors, thereby ensuring their overall welfare. Our concrete actions will speak much louder than words and mere lip service. I have dedicated the last 41 years of my life towards serving the Humanity, and by deciding to contest the forthcoming DMC Elections, I wish to play a more larger and a proactive role in times to come."