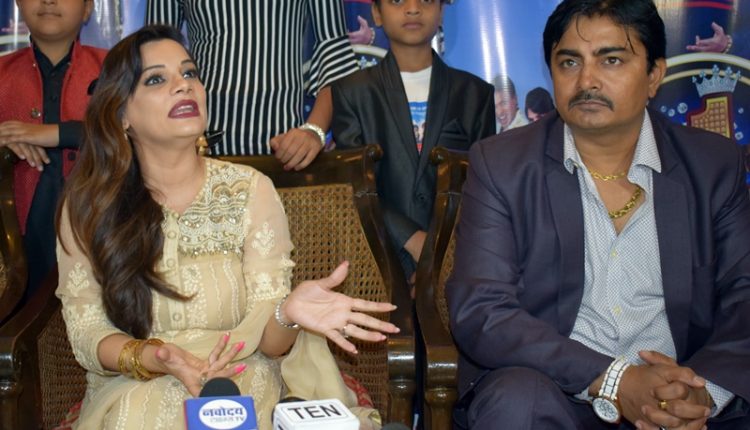 E24's reality show 'No.1 Dramebaaz' showcases talents of kids from underprivileged sections and orphan homes
Kashif Hasnain (Photo/Video) By Lokesh Goswami Ten News Delhi :
New Delhi: In a bid to introduce and nurture the talent of kids from different orphanage and deprived class children, 'No.1 Dramebaaz' reality show is providing platform to them.

The third season of reality show of acting and dancing 'No.1 Dramebaaz' which is showcasing on channel E 24 every Sunday at 8:30 pm is drawing the viewers.

Judges, director and producer of 'No.1 Dramebaaz' promoted the show in Delhi today.
While addressing media, well-known television actress Kanika Maheshwari, who has also acted in Kahani Ghar Ghar ki, Diya Aur Bati Hum and is now going to be the judge of the show said, "It is not a show but a mission. The motive of this show is to promote the talent and help  children from underprivileged sections of the society to acknowledge their potential at an early stage."

Reality Show 'No.1 Dramebaaz' Season-3, Produced by Vijay Bhardwaj, under the banner of Trivision Films Pvt Ltd is being telecast from March 11th 2018. Of 24 contestants, six kids belongs to different orphanages.
Well-known Bollywood actor Prem Chopra, Siddhesh Pai, Kanika Maheshwari, Vijay Bhardwaj and Steffi Bhardwaj are the judges of the show, while Jashn Agnihotri and comedian Sunil Pal have been hosting the show.

Later, director and producer of the show, Vijay Bhardwaj said, "The show is being telecast on the biggest entertainment TV channel, E24 from July17. There are total 12 episodes. The winner of will win a cash prize of Rs. 2.5 Lakh, a break in 2 Bollywood movies and will also be the Brand Ambassador of a reputed brand."