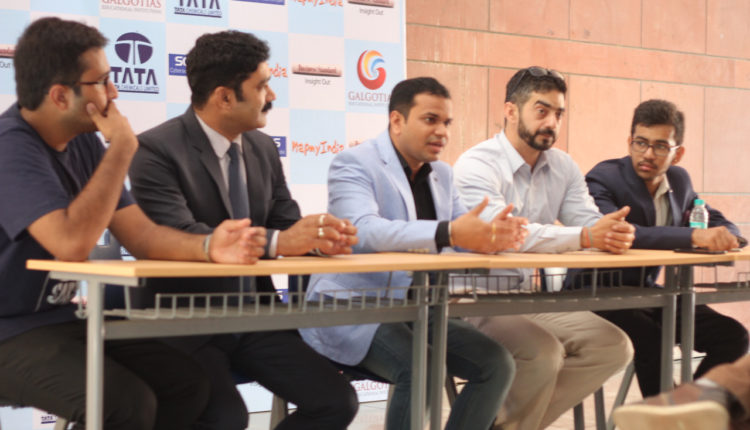 Entrepreneurship Awareness Drive organised in Galgotias College Greater Noida
Saurabh Kumar
Entrepreneurship Awareness Drive organised in Galgotias College Greater NoidaThe entrepreneurship cell of IIT Kharagpur and Galgotias College of Engineering and Technology jointly organized the Entrepreneurship Awareness Drive in Galgotias College on Saturday.
This Entrepreneurship Awareness Drive was started in 2009, to cater to the needs of entrepreneurs and enhance the entrepreneurship skills of those students who are interested in the start-up business. Today, it has 20 centres in India, and together with the start-up India program of Prime minister Narendra Modi, it encourages start-ups across various parts of the nation.
During the event, Mr. Snehash Mitra- Co Founder of Nearbuy Near, Mr. Amitabh Verma- ex Google marketing Head, Mr. Gaurav Kachru- The CEO of 5 Start Up Ideas Super Fruit and Mr. Niranjan Gutta- CFO of Hero MotoCorp gave the students the required knowledge regarding entrepreneurship and start-ups and answered the queries of students. From Galgotias College, Dr Praveen Madurai, Dr S.K.Verma and Dr Bipin Srivastava welcomed the guests.
Mr. Snehesh Mitra told students about technology and tech start up. Mr. Amitabh Varma gave tips about personal branding and its importance in modern times.
At the same time, Shri Gaurav explained how start-ups can be picked up while Mr. Niranjan Gupta inspired students for start-ups and entrepreneurship. Gaurav Kachru briefed student over one the most important aspects of any Startup: Capital, since money is said to be the blood line of any business. During the interactive session, students asked a number of questions to the key speakers to help clear their doubts.