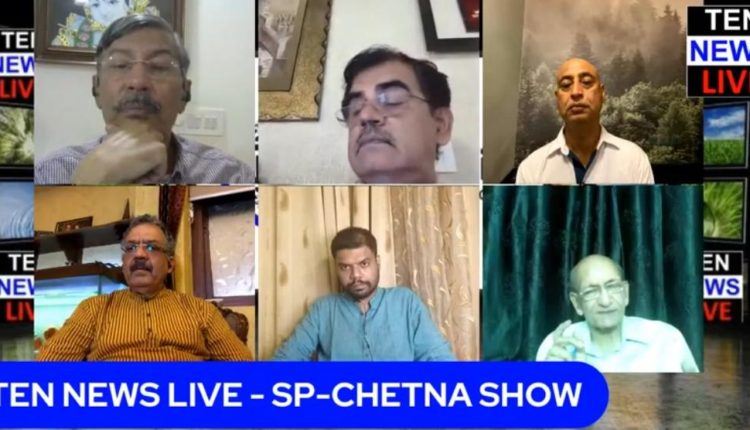 Ten News live recently hosted a SPCHETNA special show on the issue of environment protection and how it becomes all the more important.
Eminent intellectuals gathered to discuss the co-relation between pollution and covid. The show was hosted by Anil Sood, Honorary president, SPChetna.
He introduced all the panelists and started the show by briefing about the issue at hand.
Starting the discussion, ace environmentalist Dr Bharat Jhunjhunwala, explained the issue in detail and very summarised the economic, physical, mental and environmental impact of the virus. He said, "Pollution is one subset of the problem of environment. Environment has a deeper co-relation with Covid. World over government's are doing intrusive economic development. When you intrude about the environment in such manner, it creates many issues such as the increasing stress in individuals."
Elaborating on the connection between Covid and pollution, he added, "We are witnessing a contracting economy but share market is not hit? What could be the reason? It is because the people who are running the share market are not impacted by the pandemic. Hence, the common man has only lost from the pandemic and not those who are making money. Also, it is a fact that all of us have reduced immunity thus virus is affecting so many people. The government's aren't no longer concerned about people, electoral excercise is to choose between the devil and deep blue sea. So that is where we have to really focus on. Intrusive economic development is leading simultaneously to reduction of mental and physical immunity thus leading to the virus and other hand it is providing profit to the bigger business persons."
Taking the discussion further was Debadityo Sinha, a passionate environmentalist. Outlining a connection between pandemic and environment, he said, " What we eat, how we excercise etc impact our immunity and overall well-being. The food that we eat are heavily contaminated. It all impacts our body and organs. We don't have clean air, good quality food so the body is not able to copeup with the deadly virus".
Ashwani Khurana, President of Karma Lakeland talked of worsening air pollution in the country. "I have been using air purifier in room even before the pandemic. There is a direct definite link between pollution and pandemic. Air quality that we need to maintain to keep Covid at a safe distance requires clean air and Oxygen," Khurana said.
Thereafter, Dr Rajeev Sood shared details of the virus and how Covid-19 being airborne is connected with the pollution.
"In the air we have different conditions. There can be different pollutants, chemical reactions etc and these all can damage our lungs. Chronic bronchitis, sore throat all happens due to pollution" he said.
He further added, "In second wave, because of social media and prescription being passed from one person to another, it led to overuse of steroids and intensity of diabetic got bad. Covid can travel by droplet infection. That is why social distancing is important."
Towards the end of the debate Rajiv Kakria, convener, Save Our City, summarised the points raised by all panelists and also shared his expert views on the issue.
"Dr Bharat introduced us to the economic environment of greed that has taken a toll on people. There was issue of profettering and how it intensified infections during Covid. Dr Sood talked about environment of misinformation and how led to disease creating a havoc. I live in Greater Kailash. We have had over 200 deaths and thousand plus cases. There is also a rural cluster nearby where a family of six lives in a single room, the hygiene isn't very good. But there the number of cases have been very less compared to our area. So there needs to be a study as to what are the factors behind this," Kakria.