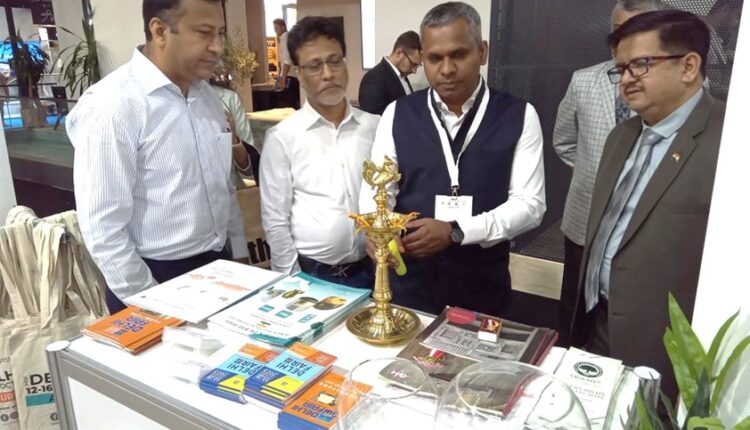 EPCH marks presence in middle east with Index Fair, Dubai

New Delhi – 23rd May'2023 – The Index Fair from 23 to 25 May got underway at Dubai, United Arab Emirates (UAE). The EPCH India Pavilion got inaugurated by K. Kalimuthu, Consul, Consulate General of India, Dubai in the presence of Mr. Rajesh Jain, Co-Opted Member CoA; Mr. Nabeel Ahmed prominent member exporter; Mr. Rajesh Rawat, Addl. Executive Director – EPCH and other member exporters. The fair being organised from 23rd – 25th May, 2023 and India has a great opportunity to display its unparalleled diversity, rich culture and tradition of arts and crafts to the global buyers at prestigious trade fair. The Council has organized the member participation of 27 member exporters from different parts of the Country informed by R. K. Verma, Executive Director – EPCH.
K. Kalimuthu, Consul, Consulate General of India, Dubai while inaugurating appreciated the continuous efforts of the Council for bringing Indian Handicrafts to the world markets and promotion of handicrafts exports from the country. He also interacted with member participants and assured all support in future business promotions.
Raj Kumar Malhotra, Chairman – EPCH informed Council regularly exhibits at Index Fair, Dubai, UAE, which provides insight into the UAE's market's versatility. Index Dubai is the Middle East & North Africa's largest gathering for the design community. EPCH has organised this participation at Index fair for the handicrafts exporters with the support of Ministry of Commerce & Industries, Govt. of India. The international trade visitors to EPCH India Pavilion are appreciating the handicrafts of India.
R. K. Verma, Executive Director – EPCH said UAE being one of the major markets in the world and Index fair gives vast opportunity to export home, lifestyle, textiles & furniture to the middle east. India's participation in this edition will add to the fair's vibrancy and diversity, as well as familiarise global manufacturers, retailers and brands thereby opening up opportunities for sourcing from India.
Export Promotion Council for Handicrafts is a nodal agency for promotion of exports of handicrafts from the Country and create brand image of magic of the gifted hands of millions of artisans and craftspersons engaged in production of home, lifestyle, textiles, furniture and fashion jewellery & accessories products in different craft clusters of the Country. The Handicrafts exports during the year 2022-23 was Rs. 29426.38 Crores and US $ 3583.52 Million, informed R. K. Verma, Executive Director – EPCH.