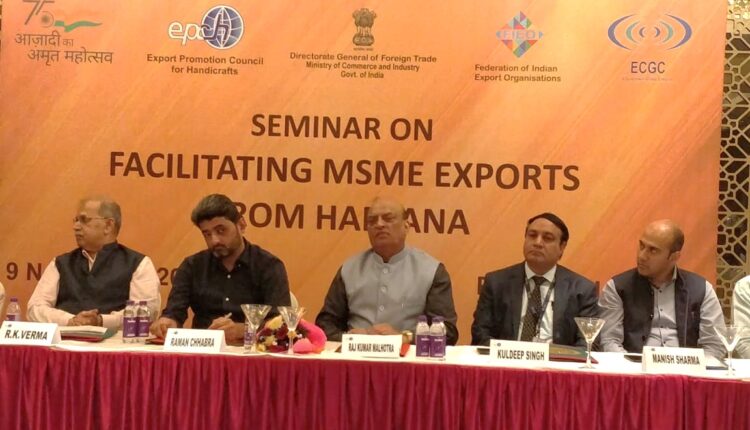 EPCH Organises Seminar On 'Facilitating MSME Exports from Haryana' in Panipat
TEN NEWS NETWORK
NEW DELHI – 09th NOVEMBER, 2022 – The Export Promotion Council for Handicrafts organised an awareness seminar on 'Facilitating MSME Exports from Haryana' at Panipat (Haryana) on 9th November, 2022.

Raj Kumar Malhotra, Chairman EPCH and Chairman, Northern Region – FIEO, Raman Chhabra President – Young Entrepreneur Society Panipat, Senior Members of Committee of Administration EPCH – Ravi Passi, D. Kumar, Sagar Mehta, Prince Malik, Arshad Mir – Chairman Handicrafts & Carpet Sector Skill Council, R. K. Verma – Executive Director EPCH, Rakesh Rawat, FTDO Joint DGFT Panipat, Ministry of Commerce & Industry, Govt. of India, Manish Sharma – Regional Head FIEO, Kuldeep Singh – Branch Manager ECGC Panipat, Mr Pradeep Ojha – Joint Director, MSME Karnal, Govt. of Haryana, Team from Intertek India Pvt Ltd led by Ms. Mini Sharma, Mr. Vipul Bhardwaj with their colleagues and leading exporters from Panipat were present – informed Rakesh Kumar, Director General EPCH.
Raj Kumar Malhotra, Chairman EPCH and Chairman, Northern Region – FIEO welcomed all the senior officials from the Central and State Govt. departments such as DGFT, ECGC, MSME and the leading exporters from Panipat, Haryana. He informed that Standards and compliance in international markets are emerging as key determinants of handicraft export competitiveness and access to expansive export opportunities. Approximately 70% of Indian handicraft exports are to compliance-conscious markets, and global brands & buyers prefer to place orders with Indian suppliers who follow better working conditions, workplace standards, and environmentally sustainable production.
Malhotra further added, ECGC plays a very important role in securing the export payments of the exporters thus giving confidence to them to explore markets across the globe. He further added that the enhancement of export credit risk insurance cover to the bank up to 90% is very good initiative by ECGC and would certainty facilitate export credit from banks to the small exporters at possibly reduced Interest rates for them.
Rakesh Kumar further informed, EPCH has always recognised Standards, Safety, and Compliance to be a prime requisite for promoting exports and has always been at the forefront of organising series of awareness seminars on these topics through expert faculties on a pan-India basis. Exporters have evidenced their willingness and invested in preparing their manufacturing units for audits by all major buyers. This has increased buyer and seller confidence, and sourcing from India has increased significantly.
The technical experts from Intertek India – Ms. Mini Sharma and Mr. Vipul Bhardwaj made presentation and said; it is believed that compliance requirement for global market also adds a significant cost burden on manufacturers, but this valuable investment actually helps to win export orders, increase turnover and profitability.
R. K. Verma, Executive Director EPCH informed that today's seminar organized jointly by EPCH and FIEO facilitated the exporters from Panipat to address their issues related to ECGC, DGFT, MSME, compliance, testing and quality for further boosting exports from this world-famous production cluster. By making their businesses ready for Compliance, Inspection and Testing according to International Standards, the exporters can give upper edge to their present business to increase domestic, online and international presence.
Kuldeep Singh – Branch Manager ECGC Panipat made detailed presentation on the ECGC's schemes and benefits available to exporters.
Vote of thanks was proposed by Manish Sharma – Regional Head FIEO.
EPCH is a nodal agency for promoting exports of handicrafts from the Country to various destinations of the world and projecting India's image abroad as reliable supplier of high quality of handicrafts goods & services. The Handicrafts exports during the year 2021-22 was Rs. 33253.00 Crores (US $ 4459.76 Million) registering a growth of 29.49% in rupee term & 28.90% in dollar terms over the previous year, informed by Mr. Rakesh Kumar, Director General, EPCH.