Here is everything you need to know about Patanjali Food Park Project at YEIDA and why it is not going anywhere after Yogi's intervention!!
Ashish Kedia
Since after Acharya Balkrishna, CEO of Patanjali issued a statement announcing pull-out of Patanjali Food Park from Uttar Pradesh, there has been continuous efforts by both central and UP government to save the ambitious project.
Sources revealed that CM Yogi Adityanath spoke to both Ramdev and Balkrishna soon after the shocking development and assured them of full support.  The food processing unit will come up in Yamuna Expressway Development Authority region. The project was given in-principle approval by Central Government in January but the company failed to meet several conditions — including submission land and bank loan papers. Patanjali has already invested crores of rupees in the project and the boundary wall has already been constructed. The foundation stone of the food park was laid by the then CM Akhilesh Yadav.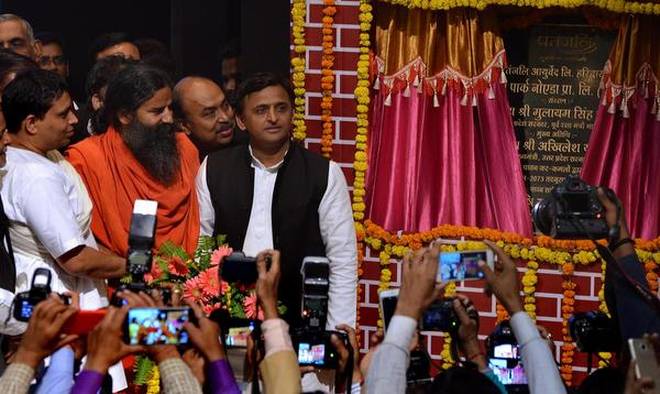 Let us first understand what led to Patanjali CEO making that shocking threat of pulling out of UP.
The bone of contention :
It has been revealed that the land was allotted under the name of Patanjali Ayurveda, but later they wanted it under Patanjali Foods. The Central Government provides a subsidy of 150 crore rupees for setting-up food parks and Patanjali wanted that out of 455 acre land allocated to Patanjali Ayurveda, 50 acres be transferred to Patanjali foods for setting up the Food Park. However as the allotment of 455 acre land to Patanjali Ayurveda was done by cabinet, the decision on transfer to Patanjali Foods can also be taken by the cabinet only.
The Ministers Speak :
Commenting on the development UP's Industries Minister Satish Mahana today told ANI, "Land allotted was under the name of Patanjali Ayurveda Foods. There is no need to sign MoU. It'll be brought before cabinet".
Union Food Processing Minister Harsimrat Kaur also stepped in and said, "There was a sub-lease issue which is being worked out. Ramdev has already spoken to CM Yogi and things are being worked out. The park was allotted only in January this year".
What does the food park policy say:
The Mega Food Parks scheme was introduced in 2008 by the then UPA government to link farmers to the market through modern infrastructure and supply chains. Later, the Narendra Modi government subsumed the scheme under another central scheme, Pradhan Mantri Kisan Sampada Yojana. The government provides financial assistance to these parks. So far, the government has sanctioned 42 such parks across the country but very few have started operations.  Patanjali Food & Herbal Park in Noida is one of the four food parks awaiting approval. Food parks need to be completed 
within 30 months

 from the date of the final sanction.
Now that CM himself is monitoring the project directly and cabinet approval of the transfer of land has been discussed, there is very little chance that Patanjali will move out of Uttar Pradesh. The picture however will be more clear within a week, when necessary approvals and clearances are expected to come-in for Patanjali Food Park.