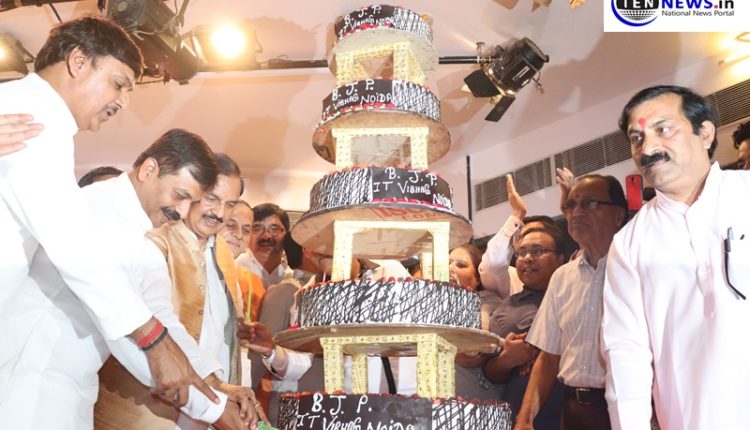 Ex Minister Dr Mahesh Sharma MP appeals people to stop the use of single use plastic as his birthday gift
ROHIT SHARMA / SAURABH KUMAR
Noida : Celebrating the 60th birthday of Dr Mahesh Sharma, Ex Union Minister and MP from Gautam Buddh Nagar, members of Dr Mahesh Sharma fans club organized a falicitation ceremony at Indira Gandhi Kala Kendra .
Program began with the offering prayers for the good health and Long life of Dr Mahesh Sharma. All the eminent personalities of the district and fans of Mahesh Sharma reached the venue in large numbers and wished him .
A five stoery cake was prepared by BJP IT cell for the grand celebration. During the event son and daughter of Dr Mahesh Sharma also remained present. Speaking at the event Dr Mahesh Sharma recalled his early days when he came Noida for 1st time "37 years back a son of farmer and school teacher came in Noida and now I am identified with this city"
Further he said " I would like to urge everyone who brought gifts for me, please stop using single use plastic and start Conserving water that will be a great gift for me and our nation. I got this lesson from my father which I want to teach each one of you.Our PM is already had launched campingn and now I would like to involve all of you in this"
Chief guest for the event Surendra Nagar MP Rajya Sabha wishing Mahesh Sharma said " Age is just a number and he will keep on serving people with the same passion. He will make Gautam Buddh Nagar one of the most developed constituency in the country . I really appreciate his appeal to people adopt water conservation and stop using single use plastic.