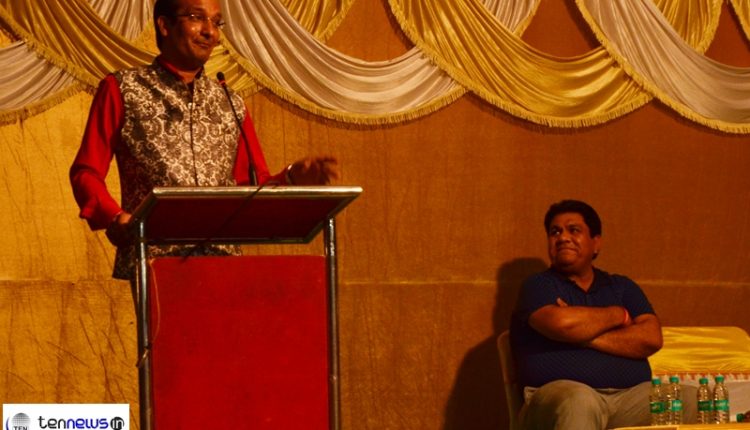 Ex Students remember the good old days at St. Xavier's College, Kolkata Alumni Meet in delhi!
PRERIT CHAUHAN (PHOTO/VIDEO BY SAURABH SHRIVASTA)
New Delhi: Planning a successful college reunion requires large-scale communication and coordination. It also requires some creativity in order to create a well-balanced program that everyone will enjoy. By organizing a passionate, committed team of volunteers, and delegating the work of planning and organizing events far in advance, you can be sure to plan events that will make your college reunion fun and memorable.

On Monday, St. Xavier's College, Kolkata organized a, Xaverian Hasya Kavi Sammelan Meet at, Rajokri Road, Samalkha, Delhi. All the xavier's passout students from the Batch 1965-2017, living around the world were present at the meet. The number of world famous alumni of prestigious St.Xavier's,Kolkata are actually countless .It has the prestige of becoming firstautonomous institution of West-Bengal! It is also One of the most prestigious educational institution of Kolkata(and of course of India) for undergraduate studies.

Also revisiting the college memories were notable alumni, Ram Jalan, Anil Hada, Manish who organized this event in a grand manner. Speaking to Ten News Xavier's Alumni Collectively said, We try to make this event happen two or three times a year. Alumni from the Batch 1964-2017 all are present here, we have created a whatsapp alumni group, where students co-ordinate and reciprocate with each other.
The main Highlight of the event was the stand-up by famous Hindi Poet Dinesh Raghuvanshi and well known for his comic and patriotic poem, poet Sudeep bhola who are known for their tongue-in-cheek humour, have been attracting huge crowds for years. The poets took potshots at politicians and made the xavier's alumini meet more enjoyable.