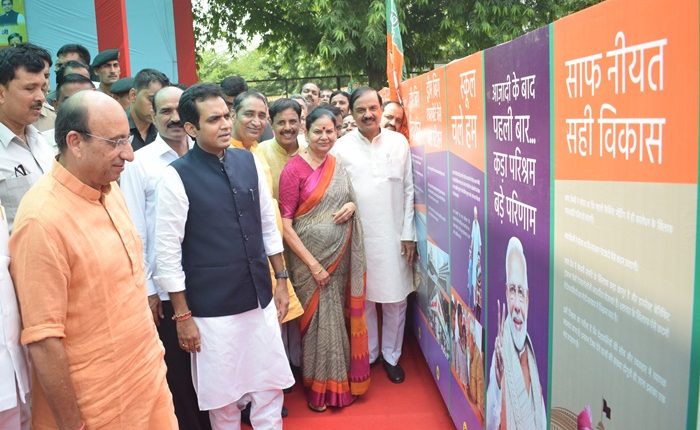 Exhibition displaying government achievement under PM Modi leadership inaugurated at Noida stadium
Saurabh Kumar / Rahul Jha
Noida: As a part of Prime Minister Narendra Modi's birthday celebration on September 17, the Bharatiya Janata Party (BJP) today inaugurated ongoing 'seva saptah', at Noida Stadium .
Cabinet Minister Jai Pratap Singh was the chief guest for the event while Ex Union Minister Dr Mahesh Sharma , MLA Noida Pankaj Singh , MLA Dadri Tejpal Nagar , UP State Women Commission Bimla Botham remained present along with other party workers.
Program started with the ribbon cutting by chief guest at the exhibition displaying journey PM's life achievements and his dream projects. The exhibition displayed the feat of the central government under PM Modi's leadership.
Apart from this, during the week a plethora of social initiatives has been planned across the district by the saffron party's cadres. Blood donation, eye check-up and operation camps — will also be organised by the party workers for the needy people all over the country.
Speaking at the event chief guest said, "We are very thankful to PM that he is teaching us things like micro planing. Decisions like GST , demonetization were questioned by experts but these decision were taken for betterment of public. We are just party workers who were given certain task which we try to fulfill."
Meanwhile, Dr Mahesh Sharma said, "PM is the person who took the pride of the country at global level. I urge all the party workers to take this day as a Sankalp Divas to fulfill the vision of PM, for this country. We should have tendency of thinking about country, how we can repay to the society and country. I pray for PM's good health and long life. "
MLA Pankaj Singh also praised PM for scraping article 370 and 35 A and called it a historic step towards correcting the mistake done by congress in the past." He further said, "Congress got the opportunity to take Pok back in 1965 and in 71 war but the failed in doing so."