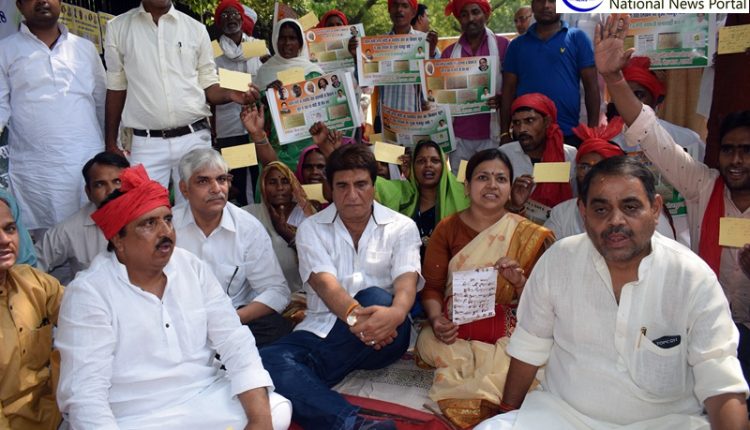 Farmers from PM Modi's constituency Varanasi hold protest, write letters with blood, Congress leaders offer support
Kashif Hasnain (Photo/Video) By Lokesh Goswami Ten News Delhi :
New Delhi: Demanding implementation of Land Acquisition Bill 2013 and returning of their lands acquired by the government, farmers from Prime Minister Narendra Modi's constituency Varanasi held a protest at Parliament Street on Monday morning.

Farmers accompanied with two former Congress MPs Mahabal Mishra and Rajesh Mishra, protested and raised slogans against their present MP and India's PM Narendra Modi and also alleged that they he have no time for the people who have voted for him as their MP.

Later, former UP Congress chief and MP Raj Babbar joined the chorus and also sat on strike for their cause. Meanwhile, farmers and MP Rajesh Mishra wrote letters with blood to PM Modi to address their demands.
"As soon as we know that representative of our constituency, PM Modi returned to India, we came here to register their disappointment," said a nonagenarian farmer to the Ten News.

Speaking to the Ten News, former UP Congress chief and MP, Raj Babbar said, "How a Prime Minister can sleep, when farmers of his constituency is crying and demanding to return their lands."
As soon, it came to my knowledge that farmers of PM's constituency are protesting I could not stop myself from visiting them. It is shameful."

Later, ex- Congress MP, Rajesh Mishra said, "He (Modi) has no time for us to listen to those who voted for him, people of Varanasi will discharge him in the next election."