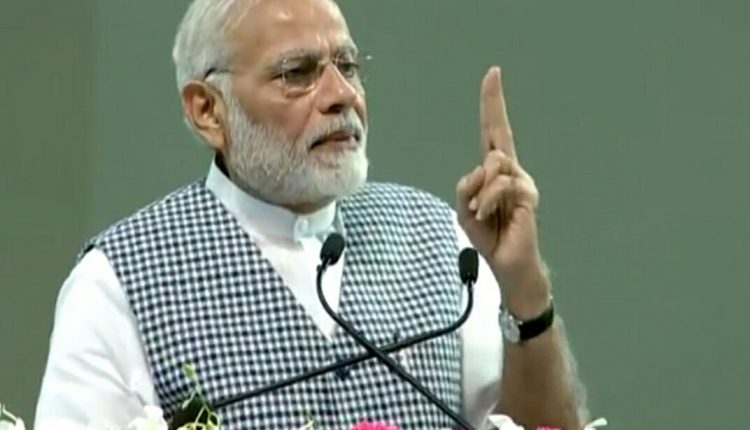 New Delhi: Today Buddha Purnima is being celebrated across the country. Famous by the name of Buddha Jayanti, this festival has special significance for Buddhist followers. The festival marks the birth, enlightenment and death of Gautama Buddha. This year, it falls on April 30 and is being celebrated in different ways across countries in south and east Asia, such as India, Nepal, Singapore, South Korea, Japan , Sri Lanka, Thailand, Myanmar and Vietnam. It is believed that today Gautam Buddha attained the salvation or nirvana under the mahabodhi tree at bodh gaya.
On the Occasion Prime Minister Narendra Modi and President Ramnath Kovind tweeted their greetings.Prime Minister Narendra Modi called the teachings of Lord Buddha "extremely relevant in the 21st century."
PM Modi also inaugurated the Buddha Jayanti 2018 Celebration at the Indira Gandhi Indoor Stadium in Delhi.
Prime Minister Narendra Modi during his speech at Indira Gandhi Indoor Stadium highlighted that India has never been an aggressor and that religious thoughts born in India have always been considerate of others. Indian religions are inclusive and tolerant.
PM Modi said, "The teachings of Lord Buddha are extremely relevant in the 21st century. His was a life devoted to alleviating suffering and removing injustice from society. His compassion has endeared him to millions. Buddha Purnima greetings to everyone."
Lauding India's ideologies and tradition, PM Modi said "we are proud that whatever ideology originated from India kept moving forward in view of the interests of the whole mankind. Service of mankind was the basis of all the ideologies served in India. Our tradition, culture & history are an evidence that we have never been the aggressors. We have never attacked any country."
"The journey of Siddhartha to become Gautama Buddha is not the story of getting only Nirvana, the story is that the story of the person who attempts to remove the pain of others by his knowledge and wealth can attain Buddha," said PM Modi.
"Living life with 'evenness' and 'equality' equals upto living life like a Lord Buddha, The biggest message of Buddha Purnima is – If you change yourself before others change, you will also become Buddha," added PM Modi.