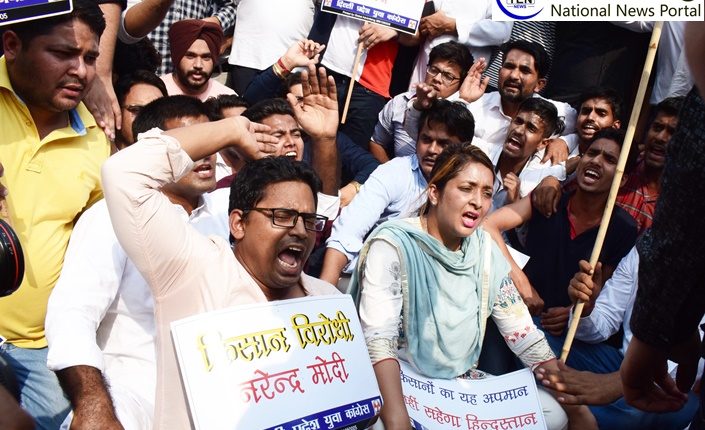 Farmers Protest: Delhi Pradesh Youth Congress protest in Solidarity with Nationwide Farmer's Cause!
Prerit Chauhan (Photo/Video) By Lokesh Goswami Ten News Delhi :
New Delhi: As the 10-day pan-India "Gaon Bandh" (rural shutdown) protest called by farmers' group entered the fourth day,
10 days protest which is going to disrupt the whole economy of India and may lead to food shortages if compromises are not made.

Prices of fruits, vegetables and milk Already shot up in metros and several cities.
Farmers stopped the supply of essential items, scattered milk and other field-produce on the streets, to register their protest. There have been no reports of violence in the ongoing agitation. Overall, the protest remained peaceful.
On Monday, Delhi Pradesh Youth Congress has extended support to the ongoing 10-day farmers' agitation.
Youth Congress staged a Massive protest at Ministry of Agriculture & Farmers Welfare (Krishi Bhawan), New Delhi in solidarity with nationwide farmers cause. This protest aimed to expose the failures of Modi government on issues of farmers suicide.
Delhi Pradesh Youth Congress, Incharge khushboo also Slammed, Haryana Chief Minister Manohar Lal Khattar after he mocked the 10-day farmers' protest that has been launched across eight states by calling it "issue-less".
Speaking to Ten News, Khushboo Said,
"Farmers across the state are holding protests but the government seems to have a negative approach over keeping the promises it had made to farmers last month.The time has come for the people of india to join the fight against this Anti-Farmers government."
She further said, "Look What Haryana's CM Manohar Lal Khattar said it's a insensitive response to farmers' agitation."