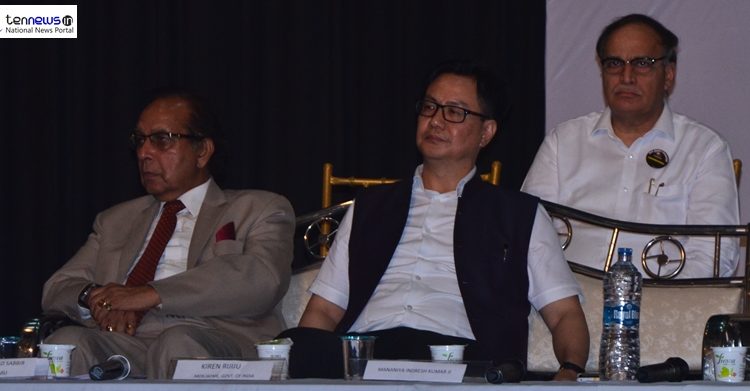 New Delhi: Ram JanamBhoomi-Babri Masjid Dispute which has been the reason for the dispute for decades, was discussed in the University of Delhi (DU) on Wednesday. The History of the dispute It boils down to a plot of land in the city of Ayodhya in Uttar Pradesh. The site that is regarded among Hindus as the birthplace of Lord Rama also historically locates Babri Mosque. Now whether a previous Hindu temple was demolished or modified to create the mosque is a question.The conflict of history.
On Wednesday, First of its kind dialogue on Ram Janam Bhoomi by "New Bharat Foundation" under the aegis of fans and was graced by RSS leader, Indresh Kumar, Union Minister of State for Home, Kiren Rijiju. Hundreds of Hindu-Muslim students, Former Vice-Chancellor of Aligarh Muslim University, Mohammad Sabir, Banaras Hindu University Professor Rakesh Upadhyaya also participated in the first of it's kind panel Debate.
The Panel Debate was organized by the New Bharat Foundation on Wednesday in the Shankar Lal Auditorium located in DU's North Campus. About the Event, the seminar organizer, Vikramaditya Singh, said that this event is an attempt to break the stereotype related to Ramjamam bhoomi as a sensitive issue.
In the Panel Discussions, representatives of political parties, historians, advocates, spiritual gurus and bureaucrats also participated.
Addressing the Gathering, Rashtriya Swayamsevak Sangh's (RSS) senior functionary, Indresh Kumar, Said, "I see no relevance of the political frenzy that is being created after the events in Ayodhya and subsequent violence. As long as the Hindus and the Muslims have to stay together, they will have to respect each other. There is no option but to bring the situation to normal."