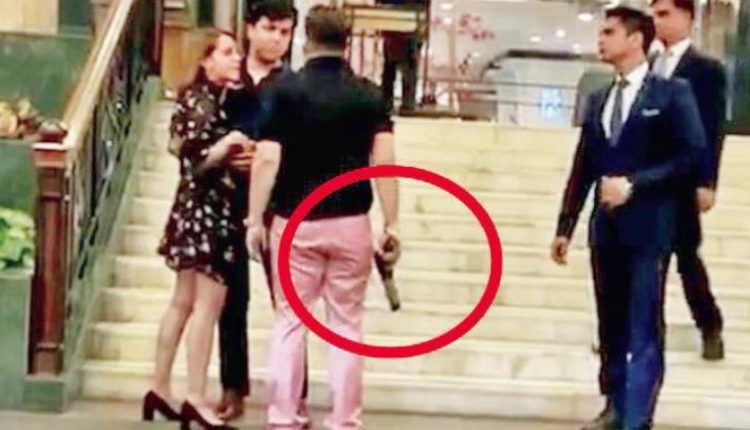 Former BSP MP's son booked for waving gun in 5 Star Delhi Hotel
Rohan Sachdeva
New Delhi: The son of a former BSP MP was booked Tuesday after a video clip that did the social media rounds showed him brandishing a fire arm, and threatening a couple following an argument at the Hyatt Regency hotel at R K Puram in New Delhi.
Police said Ashish Pandey, who hails from Lucknow, is the son of former BSP MP Rakesh Pandey. His brother, Ritesh, is an Uttar Pradesh MLA. Police said the incident took place early Sunday. Following a complaint by the assistant security manager of Hyatt Regency, a Look Out Circular was also issued against Ashish Pandey.
Joint Commissioner of Police (southwest) Ajay Chaudhary said Pandey has been booked under the Arms Act, and for assault. He said police teams have been sent to track him down.
The incident took place at 3.40 am on Sunday October 14, after a party. They drove off in their BMW, unchecked by the hotel staff.
The BSP distanced itself from Ashish Pandey. "Whoever he is, a proper investigation should be done and action should be taken. The incident doesn't have any connection with BSP. He is neither a leader nor a member of BSP," said the party's Sudhindra Bhadoria.
"No complain was lodged by the victim and the hotel staff on the same day. There is negligence on the part of three parties – the victim, hotel authorities and the accused," said Joint Commissioner of Police (New Delhi) Ajay Chaudhary.
The woman at the receiving end of Pandey's threats and abuses told a news channel she was scared and so were the hotel staff.
"A man with a gun hurled abuses at us and walked up threateningly. I was intimidated and scared. The hotel staff were present at the spot. They tried to intervene but could not as they were also scared," the woman said.
The son of the former BSP MP has been booked under various sections of the IPC.