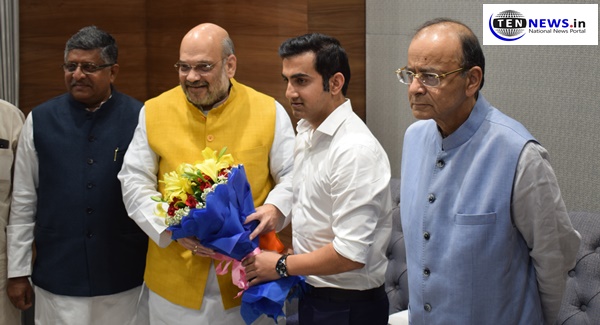 New Delhi:(22/03/2019) Turning politician from cricketers is sort of a trend in India. The recent player to join politics is Gautam Gambhir, who is now all set to play on political pitch. Struggling to get in the team due to the new talents occupying places, Gambhir retired from cricket in December 2018. Today the cricketer has joined the Bhartiya Janta Party and will contest the upcoming Lok Sabha Elections.
Union Minister Ravi Shankar Prasad and Finance Minister Arun Jaitley welcomed him in the party.
The former cricketer joined the party just a day after saffron party announced its first candidate list which includes 184 names.
According to the sources, the party can field Gambhir from one of the seven seats in the national capital.
Welcoming the Cricketer, Union Minister Ravi Shankar Prasad said, "Delighted that Gautam Gambhir who brought glory for India in field of cricket has joined BJP and has committed to actively serve the country from this platform under the leadership of Prime Minister Narendra Modi and BJP president Amit Shah."
Gautam Gambhir said, "I am joining this party(BJP) after getting influenced by PM Narendra Modi's vision. I am honoured to get the opportunity to join this platform."
The cricket holds a strong presence all over the country and also affects the political situation in India as well as the national capital as Congress and Aam Aadmi Party may form an alliance in Delhi to counter BJP.
It can be assumed that party can declared him as a candidate in the next BJP's candidate list.