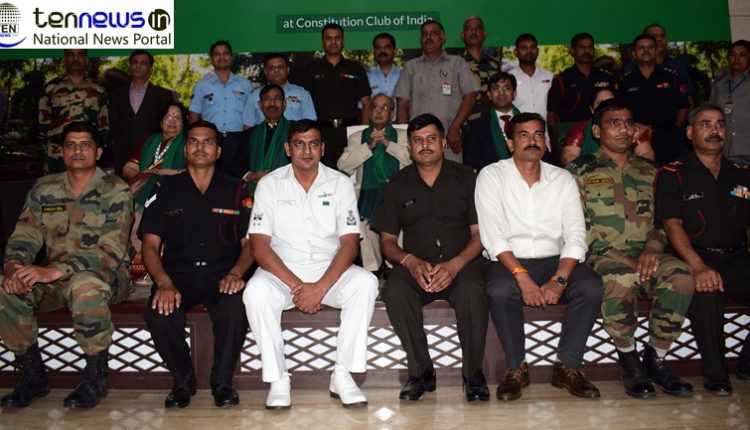 Former President Pranab Mukherjee Thumping Speech On Indian Higher Education | Apar India Group of Institutions
Lokesh Goswami Ten News Delhi :
Ex-President of India, Dr Pranab Mukherjee, on Saturday graced the Graduation ceremony of students from Apar India Group of Institutions and Tata Institute of Social Sciences (School of Vocational Education) at New Delhi's Constitution Club.   Dean School of Vocational Education, TISS, Founder and Chairman, Apar India Institute of Management, Dr RK Jain, Director, Apar India Group of Institutions, Apar Jainand several high-profile dignitaries were also present at the graduation ceremony of premiere batches of Apar India students who completed their Postgraduate diplomas. 

Addressing the august gathering, the former First Citizen of India congratulated the young minds as they are set to step into the professional world. The outgoing students – all of whom got placements after excelling in programmes of HR and Administration, Banking and Finance, and Sales and Marketing – were awarded their diplomas.   Addressing the young and aspiring minds and all those present on the occasion, Dr Mukherjee said, "Let me at the outset congratulate all of you who are graduating today. Needless to say, this is a moment of great joy and satisfaction in your life. I am sure that with the value system and training that you have acquired at this Institute, you will be able to face the world with confidence. From the country's point of view, we welcome you as our next generation of managers and leaders. May you grow up to provide effective leadership over this century."
Highlighting the importance of such institutions and the service they do form the country's growth, Dr Mukherjee stated he feels glad that a premier institution like TISS and Apar India continually respond to the changing social realities through the development and application of knowledge, towards creating a people-centric and ecologically sustainable society that promotes and protects the dignity, equality, social justice and human rights for all, with special emphasis on marginalized and vulnerable groups.  School of Vocational Education (SVE) by TISS rolls out a new education eco-system in India in association with AICTE. This Vocational Education programme focusses on job-specific skills rather than providing a broad and varied education for various verticals.  
Dr Mukherjee, who before getting actively involved into politics was a teacher himself, further stressed that India's development philosophy must realize that neither high, medium-term growth nor sustained poverty reduction, are possible without a paradigm change in India's approach to the education and employment of youth.   
Dr Mukherjee, who has held the portfolios in the government in his political journey, opined the biggest goal Education should serve is to act as a powerful medium and teach an individual to create opportunities, explore unseen domains, solve problems, and find one's own identity. 
He also appealed the educationists, teachers and institutions to patronize innovation so that India becomes a global leader in the field of innovations and new ideas. The octogenarian leader also expressed his happiness to be present amongst young minds brimming with confidence.  
Lauding the institution for quality education over the years Dr Mukherjee said, "Dear Friends… Great educational institutions require good faculty and administrators. TISS was able to attract and recruit outstanding teachers, students, workforce and Apar India Institute, as a premier Training Hub Partner. Its ability to impart organized knowledge in a systematic way for so many centuries was because of the presence of the leading scholars of their time as faculty and a dynamic student community. I acknowledge the tireless efforts of all those involved in this project.  Addressing the passing out students he added, "Dear graduating students, the intellectual, social and technical skills you have acquired here from the teachers and members of the faculty would stand you in good stead. In your career, there will be many professional accomplishments to your credit. Your parents, teachers and alma-mater will be proud of your achievements. This is a proud moment not just for you, graduating students, but also your teachers, mentors, faculty members and parents. Sail forth into the world with confidence. Lead us in the building of a better world. Good Luck!"