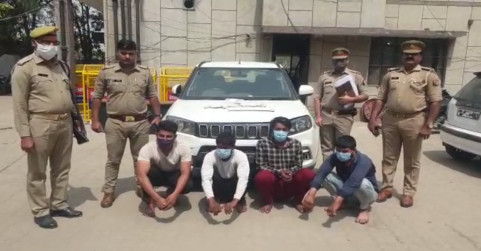 Four arrested in Brezza loot incident with engineer, car recovered
Ten News Network
On Monday, Greater Noida police arrested four accused for looting Brezaa from an engineer after taking him at gunpoint around 21 days back. Police also recovered the looted Brezza and an I-phone from the accused.
As per the police officials, "On 14 March, two unidentified assailants had robbed an SUV from an engineer after taking him on gunpoint. The incident happened at 6 PM near Migsun roundabout under Surajpur Police Station, when the victim Nishant was out to buy vegetables with his wife and daughter. The assailants had dumped the wife and the daughter who were sitting inside the car at that moment."
After the incident, Police Commissioner Alok Singh had deputed four police personnel to find the miscreants involved.