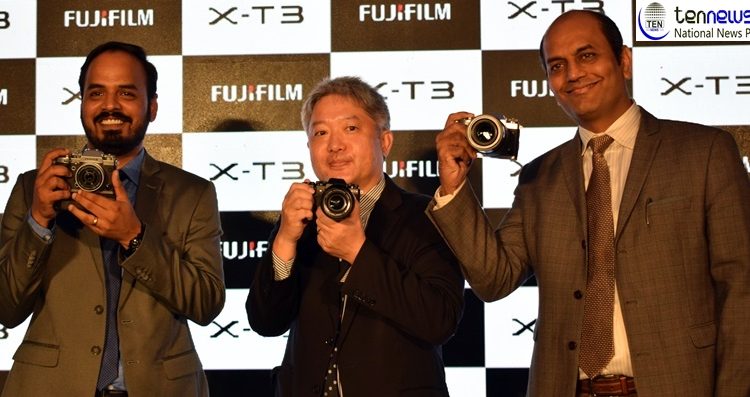 Fujifilm India launches X-T3 mirrorless digital camera, offers complete upgrade in X series
Lokesh Goswami Ten News Delhi :
Fujifilm India today launched the X-T3 mirrorless digital camera – World's First APS-C mirrorless camera capable of 4K/60P 10 bit recording.

This X Series' evolution into the 4th generation is a complete upgrade with the all-new back-illuminated 26MP X-Trans CMOS 4 (*1) sensor and X-Processor 4 image processing engine.
It boosts of a Superb image quality and enhanced ability to track a moving subject with substantial AF performance improvement and blackout-free burst shooting.
X-T3 is available in two stunning colors Black and Silver. The X Series began with the 2011 release of X100 globally. The X-Pro1, released in 2012, became the first model to feature the X-Trans CMOS sensor, which uses a unique color filter array based on FUJIFILM's extensive photographic expertise to achieve exceptional image-resolving performance and control of false colors at the same time, as well as the EXR Professor Pro image processing engine compatible with the sensor.
Commenting on the occasion, Mr. Haruto Iwata, Managing Director, Fujifilm India Pvt. Ltd. said, "It is a proud moment for us to announce the much-awaited Fujifilm X-T3 mirrorless digital camera in the same year which marks our 10th anniversary in India. As we celebrate this success today, we are also gearing up for the next big leap towards new goals, one of which is to achieve 30% Market Share in the Indian Mirrorless Market in the next 3-4 Years. X-T3 is our step towards that endeavor and we at Fujifilm are confident that the new X-T3 will receive the same recognition and acceptance received by its predecessors. We strongly believe that in the next five years demand for mirrorless cameras will surpass that of DSLRs. We will continue to bring the best of technology and innovation to our consumers at the best possible price point."
The latest model, X-T3, features the new X-Trans CMOS 4 sensor and X-Processor 4 image processing engine, ushering in a new, fourth generation of the X Series.
The X-T3 takes full advantage of the capability of these fourth-generation devices to enjoy significant performance improvement.
The "Color Chrome Effect," previously only available in FUJIFILM's medium-format mirrorless digital camera "GFX50S," is featured in the X-T3, the first in the X Series.
The effect produces deeper colors and gradation in subjects with highly saturated colors, such as vivid-colored flowers with shadows, a notoriously difficult photo subject for gradation reproduction.
The high-speed processing power of the X-Processor 4 means this effect can be applied not only in single shots but also in continuous shooting.