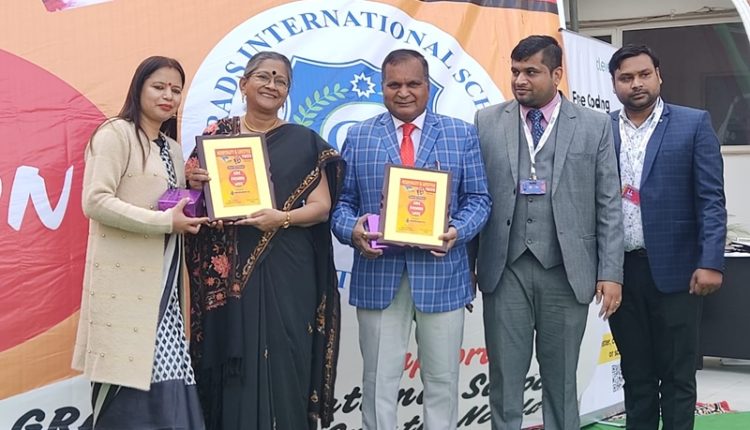 Future models, actors, singers and dancers rocked the stage at Grads International School
Ten News Network
Greater NOIDA (04/11/21) : In this fast changing innovative world, fashion is no longer a cliched word. It has become a way of life which includes creativity, good personality, well-being and physical fitness. A number of creative activities such as advertisement, performing arts, event management, product design, manufacture and commerce are directly related to the world of fashion.
Grads International School, in association with the Hospitality Lifestyle Mantra, presented fabulous "Kids Fashion Week Season 2", Kids Fashion Show and Ramp Walk for children of Age group 3 to 15 years.
Gajanan Mali, Founder, TEN NEWS NETWORK Chief Guest on the occasion said that Grads International School under it's dynamic and energetic Principal Aditi Basu Roy's leadership keeps organising various talent shows and competitions. He appreciated the fashion and lifestyle extravaganza co organised by Hospitality and Lifestyle Mantra Navin Dwivedi and his energetic Team. Shri Mali showered the praise on the Kids and their parents for participating in fashion show. He especially appreciated the Marathi Folk Dance Lavni Troupe of Grads International School. Choreography of which is done under the mentorship of Physics Teacher Archna Gajbhiye.
Aditi Basu Roy Principal said that the school is striving for holistic development of their students and committed to provide international standard education and skill development of every student . She appreciated the parents support in nurturing talents of their wards. She thanked Hospitality and Lifestyle Mantra Team for presenting fantastic fashion show.
Young singing talent Khushi Goswamy made all the kid's to dance on famous dance items. The program was anchored vibrantly by the Teacher, Young Entrepreneur and Social Worker Shivani Pandey.
KIDS FASHION WEEK SEASON 3 by Grads International School and Hospitality and Lifestyle Mantra | Photo Highlights