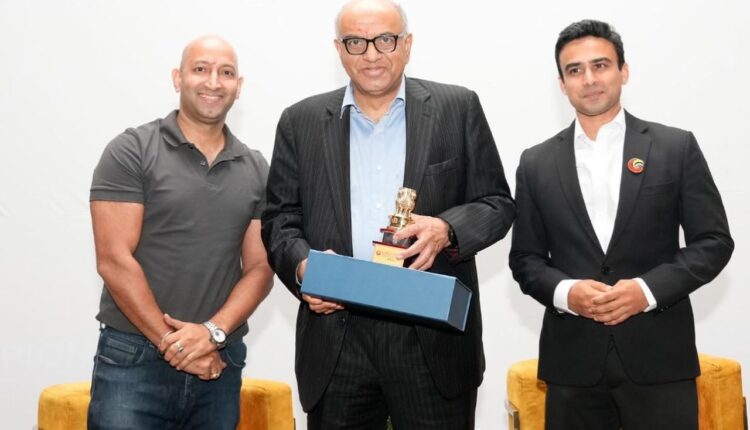 Galgotias University and IIT Kharagpur Unite to Ignite Entrepreneurship Awareness Drive in Noida
TEN NEWS NETWORK

In a remarkable display of collaboration and innovation, Galgotias University and IIT Kharagpur jointly hosted the Entrepreneurship Awareness Drive Noida 2023 that brought together aspiring entrepreneurs, industry pioneers, and academia at the Galgotias University Campus. The event witnessed an overwhelming participation of more than 1000 budding entrepreneurs, students from Galgotias University, as well as students hailing from various colleges and universities in Greater Noida.
The Entrepreneurship Awareness Drive Noida 2023 was graced by distinguished guests and thought leaders who shared their invaluable insights with the attendees. Sanjeev Bikhchandani, Founder and Executive Vice Chairman of Info Edge, captivated the audience with a fireside chat on the topic of "Entrepreneurship as a Career Choice," shedding light on the thrilling world of entrepreneurship.
The highlight of the event was a stimulating panel discussion on "Elements Shaping the Entrepreneurial Ecosystem," featuring esteemed industry leaders, Lal Chand Bisu, Co-founder and CEO of KuKu FM, Ayush Jaiswal, Co-founder and CEO of Pesto Tech, Puneet Gupta, Founder and CEO of Astrotalk
The panel discussion was skillfully moderated by Deep Bajaj, Co-founder and CEO of Sirona Hygiene Pvt. Ltd., offering attendees the opportunity to gain profound insights from these experts.
Sandeep Jain, Founder and CEO of Geeks for Geeks, delivered an engaging keynote session titled "From Guru to Geek: Building Geeks for Geeks," providing valuable insights into the ever-evolving landscape of entrepreneurship. This was followed by an intriguing quiz focused on startup culture and entrepreneurship.
The Entrepreneurship Awareness Drive Noida 2023 emerged as a resounding success, uniting industry stalwarts and aspiring entrepreneurs to foster innovation and promote entrepreneurship in the region. It served as a platform for knowledge sharing, networking, and inspiration, setting the stage for the next generation of entrepreneurs to thrive.
Dr. Dhruv Galgotia, CEO of Galgotias University, expressed his enthusiasm for this collaboration, saying, "Galgotias University has always been dedicated to fostering a culture of research, innovation, and entrepreneurship. We are immensely proud of our achievements and the journey, with over 1800 patents, including more than 150 attributed to our students. We currently hold the 5th rank in India for patent filings and are the nurturing ground for more than 200 startups within our campus community. The Entrepreneurship Awareness Drive Noida 2023 reaffirms our commitment to nurturing entrepreneurial talent and driving innovation. We are grateful to IIT Kharagpur, our esteemed guests, and all the participants for making this event a grand success."
Galgotias University continues to lead the way in promoting entrepreneurship and innovation, with a thriving ecosystem where students can transform their ideas into reality. The Entrepreneurship Awareness Drive Noida 2023 will undoubtedly leave a lasting impact, inspiring young minds to take the plunge into the world of entrepreneurship and innovation.