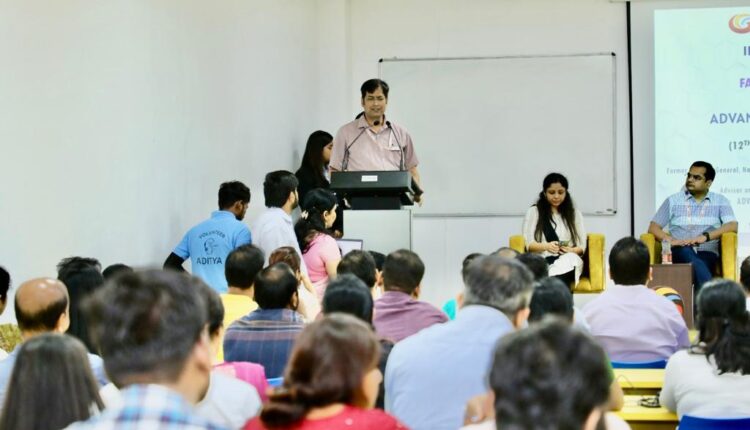 Galgotias University organizes 5-day FDP on "Advances in Sustainable Materials"
TEN NEWS NETWORK

The School of Basic Sciences, Galgotias University has organized a five-day Faculty Development Program (FDP) on "Advances  in Sustainable Materials" from September 12, 2023 to September 16, 2023. The purpose of the FDP is to provide a platform for academicians, industry professionals, faculty members, and students to explore about recent advances in Sustainable Materials and applications in their research.
The distinguished Industrialist, Dr Bibekananda Mohapatra, Ex- Director General of National Council for Cement and Building Materials (NCCBM), Govt. of India and present Adviser and Consultant at Ultratech cement Limited, Aditya Birla group, Mumbai graced the event as the chief guest. The chief guest Dr Mohapatra motivated the students and faculty members to explore the opportunities available in the field of sustainable materials and ensuring their value addition towards sustainable development goals.  He enlighted the scope of carbon capturing during cement production and value addition of cement industry waste in sustainable manner leading for eco-friendly environment.  He also encouraged the faculty members and researchers to join the hands with industry in the forms of collaborative research.
The event commenced with an inauguration by Dr. K. Mallikharjuna Babu, the Hon'ble Vice Chancellor of Galgotias University, and witnessed the esteemed presence of luminaries including Prof. (Dr.) Avadhesh Kumar, Pro-VC of Galgotias University; Prof. Renu Luthra, Advisor to the Chancellor and former Vice Chancellor of Galgotias University; Dr. Nitin Gaur, Registrar of Galgotias University; Dr Amitabh Bhattacharya,  Controller of Examination; Dr. Rajendra Singh, Research Advisor, Galgotias University; Prof. (Dr.) Arvind K. Jain, Dean of Student Welfare, Galgotias University; Prof. (Dr. ) Sanjeev K. Singh, Dean of the School of Basic Sciences; as well as Deans from other schools. The event was skilfully coordinated by Dr Anjali Gupta, Dr Subhalaxmi Pradhan, and Dr Diwakar Chauhan, as advisors Dr Lalit Prasad, Dr Akash Kumar, Dr Sahil and Dr Umar as Convener of FDP, Faculty members and students of School of Basic Sciences.
Over the five days, the FDP is set to feature speakers from various countries, IITs and CSIR Labs, covering an array of domains in the area of Advanced Sustainable Material. In this five days' FDP on Advance sustainable Materials, 14 eminents speakers from renowned academic institutions, research labs and Industries enlightened the participants with different opportunities, challenges and future scope of sustainable materials.
The valedictory session was held on 16th September and closing remarks were delivered by the Professor A.K.Jain with the announcement of great outcome in terms of research collaborations and MOU with Agnitio Pharma and Integral BioScience along with collaboration with Wiley-VCH for an International conference in near future.