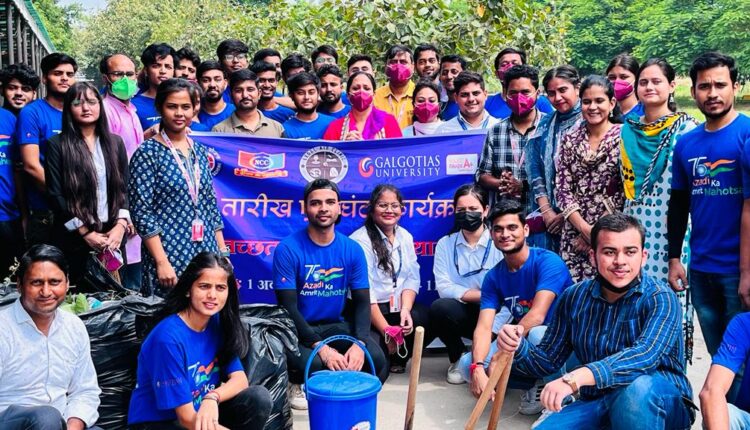 Galgotias University students carry out "Swachhta Shramdaan" at District Sessions Court, Gautam Buddha Nagar
TEN NEWS NETWORK

Greater Noida, 1st October: Students of Galgotias University, under the aegis of DLSA , carried out one-hour "Swachhta Shramdaan" in the "District Sessions Court", Gautam Buddha Nagar on Sunday
Richa Upadhyay , Additional District Judge (Fast Track Court), Gautam Buddha Nagar took part in the drive along with the students of Galgotioas University.
Under the supervision of DLSA, and in response to the call made by Shri Narendra Modi, the students of Legal Aid Clinic School and National Service Scheme at Galgotias University came together for a cleanliness drive at the District Session Court. This initiative was part of the "Swachhta Pakhwada, Swachhta hi Seva" program. The students and Richa Upadhyay participated with complete dedication in the drive "Cleanliness Shramdaan".
Dr. K. Mallikarjuna Babu, the Vice Chancellor of Galgotias University, whole heartedly welcomed the Prime Minister's noble initiative and extended this thanks to all the students and faculty who participated in the cleanliness campaign. The theme of the campaign, "Cleanliness is service," emphasized the goal of achieving a clean, healthy, and prosperous India through the collective effort of "01 Date, 01 Hour Shramdaan."
"Cleanliness is another form of God", said the chancellor of Galgotias University, Sunil Galgotia. He also committed that we @ Galgotias University will follow this noble initiative of the Prime Minister.
Dr. Dhruv Galgotia, CEO of the University, said that it is the collective responsibility of every individual to keep our nation clean. He urged the Galgotians family to contribute collectively towards the cause.
Aradhana Galgotia, Director said that it is our prime duty to keep our environment. Clean environment is the basis of healthy lives, hence to ensure that we live healthy lives we must contribute towards cleanliness.
Pranjali Mishra, program coordinator of National Service Scheme of Galgotias University, and Prof. Narendra Bahadur Singh of Legal Aid Clinic School were also present in this program.