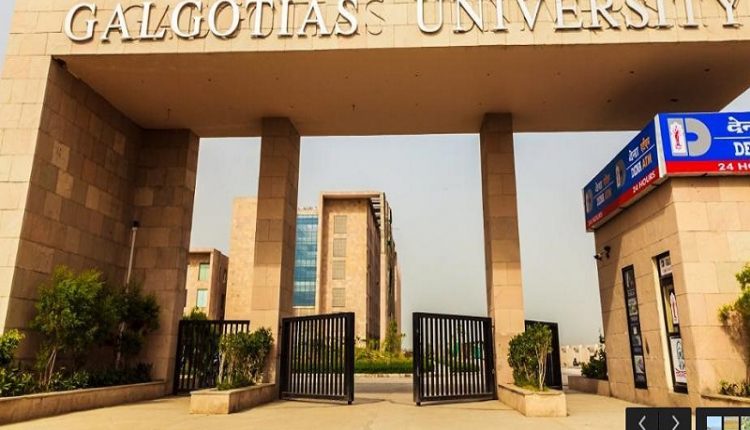 Galgotias University to take oath for full implementation of NEP 2020 in the presence of Education Minister
Greater Noida, 15th February: Aiming to become the first university to fully implement NEP 2020, Galgotias University is going to organize a two day National level Seminar on "National Education Policy 2020: A Gateway to Academic Excellence" on 17th and 18th February 2021.
Union Education Minister Ramesh 'Nishank' Pokhriyal will be joining the inauguration of the National Seminar where he will witness the oath by Galgotias University for full implementation of NEP 2020.
Other eminent personalities who are set to attend this National Seminar are – Dr. D P Singh, Chairman, University Grants Commission, New Delhi; Dr. Anil Sahasrabudhe, Chairman, All India Council for Technical Education, New Delhi; Dr. K. K. Aggarwal, Chairman, National Board of Accreditations, New Delhi; Dr. Anil Kumar Nassa, Member Secretary, National Board of Accreditations, New Delhi; Dr. Devi Singh, Former Director, IIM-Lucknow, Dr. V. Ramgopal Rao, Director, IIT-Delhi; Dr. Milind D. Atrey, Dean R&D, IIT-Bombay; Dr. Ashok Jhunjhunwala (Padma Shri), Professor, IIT-Madras; Dr. Raghunath Shevgaonkar, Former Director, IIT-Delhi; Dr. Manpreet Singh Manna, Former Director, Swayam; Dr. B. B. Ahuja, Director, College of Engineering, Pune; Dr. Vinay Pathak, Vice Chancellor, Dr. A. P. J. Abdul Kalam Technical University, Lucknow; Dr. Ashwin Fernandes, Regional Director, MENA & South Asia, QS Quacquarelli Symonds.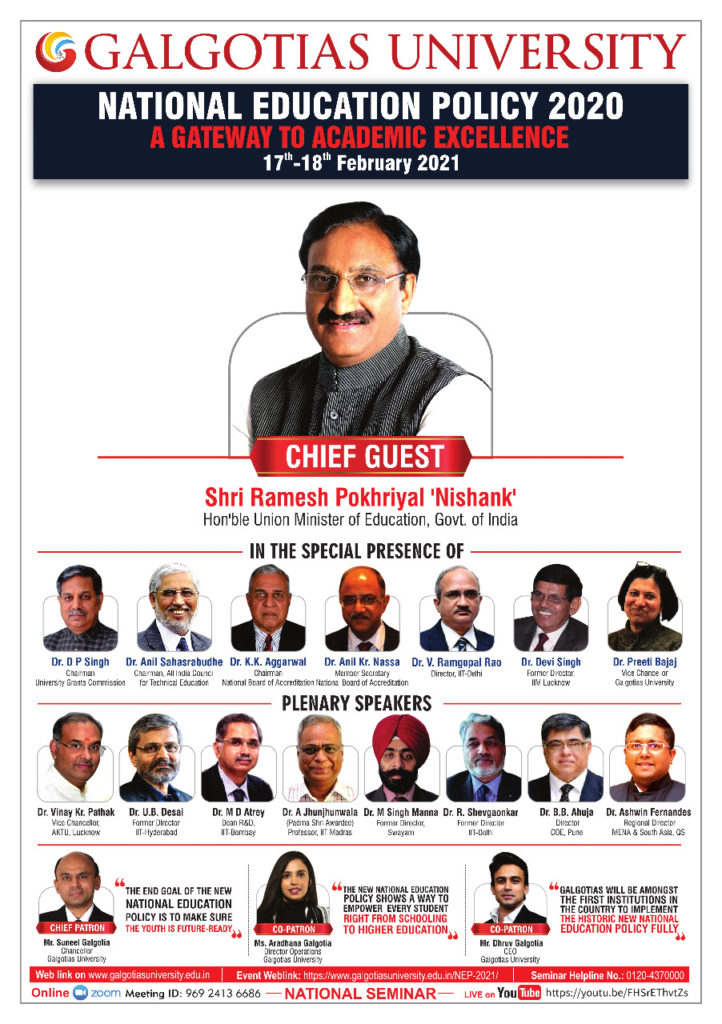 The experts will be covering the aspects of NEP and Quality in education through diverse topics such as Accreditations in India, NEP 2020: A Way Ahead, Quality Improvement in Research, QS Ranking: A Way to Quality Improvement & Gap Analysis in Higher Education, creating a Research Ecosystem, writing a Research Proposal, Industry Academia Collaboration, IQAC Role in the Continuous Improvement of HEI, MOOCS / NPTEL Way Ahead, Future Engineering: Engineering the Future and many more.
The University is the first ever university to follow OBE in true sense across all disciplines and all schools since its inception and it is ahead in implementing many clauses of NEP2020 like Credit transfer system, Multidisciplinary approach, interdisciplinary approach, CBCS, relative grading and University Core Courses like AI, Data science, Innovation, Creativity and Entrepreneurship, Disruptive Technologies, Creative arts, liberal arts and Professional Ethics and Human Values. In this seminar, the University will pledge to implement the National Education Policy 2020 to the fullest. The event will be streamed live on:
The program shall be chaired and convened by Dr. Preeti Bajaj, Vice Chancellor Galgotias University.
Click here for registration.