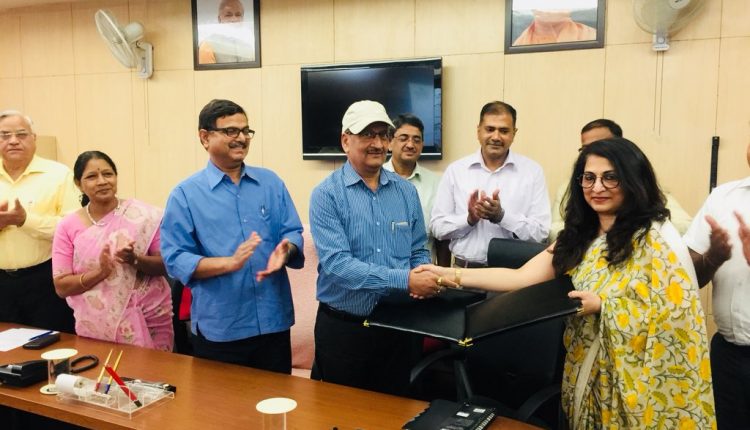 Gautam Buddha University forges Industrial Collaborations, slew of measures introduced to make it World class!
Ashish Kedia
(22/05/2018)
Gautam Buddha University Greater Noida boosted of an exemplary infrastructure and vast campus completely equipped with facilties to cater to thousands of students. Despite multi-disciplinary courses GBU had failed to make a mark of itself in previous few years and was not attracting much talent from different parts of the country.
However things seem to have changed drastically in past few months. Under the administration of its incumbent VC Dr. Prabhat Kumar, GBU is introducing many praiseworthy initiatives for the welfare of its students.
Yesterday  Gautam Buddha University signed an MOU with FICCI for setting up Model Counselling Centre (MCC).
Detailing about the arrangement Dr. Prabhat Kumar tweeted, "FICCI will hand hold students for career counseling, placements, interaction with industry leaders/experts & boosting research. An important milestone for GBU. Thanx FICCI & GBU staff".
When the admission brochure was released on March 12 this year,  Provision for scholarships for meritorious, meritorious & needy students was introduced for the first time.
On March 19 also an industry academia meet was organized at Gautam Buddha University In the aforementioned meet more than 50 companies had participated and expresses interest to collaborate with GBU for placements, training, sponsoring scholarships/medals/chair, industrial attachments, resource persons. Gautam Buddha University also offered customized academic/stress management course.
Previous to this all Gautam buddha University was also designated to conduct Social Impact Assessment for land acquisition for Jewar Airport by UP Government.
With all these new initiatives and collaborations, GBU seems to be marching one a path of becoming a truly world class institute.