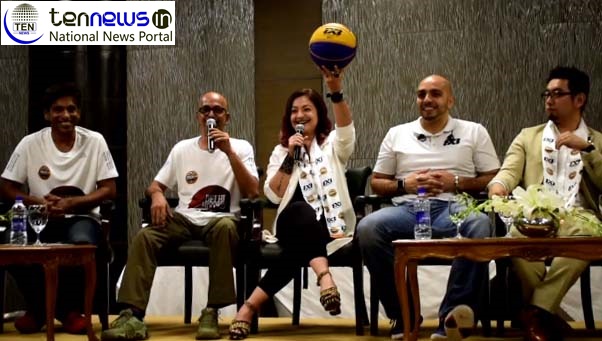 Get over with cricket to encourage other sports says Bollywood actress Pooja Bhatt at launch of her basketball team Delhi Hoopers 
Kashif Hasnain (Photo/Video) By Lokesh Goswami Ten News Delhi :
New Delhi: We need to get over with the cricket obsession now and promote other sports like basketball, boxing, football which are more exciting sports, said bollywood actress Pooja Bhatt.
She was in national capital to launch her Basketball team 'Delhi Hooper'. Her team is going to participate in 3BL – 3×3 Pro Basketball League kick start from June 9 at Great Indian Palace Mall Noida.
"It is true that India is a cricket obsessed nation and it is the time to get over with this obsession and promote other sports like basketball, boxing, football and so on. So, the country can become sports nation," said Pooja Bhatt.

She further added, "When I heard about this 3×3 10-minute basketball tournament, I decided to own a team. And now a Mumbai girl will cheer for a Delhi team which is 'Delhi Hooper'."
Replying to a question of the future of this basketball tournament in cricket obsessed country she said, "Basketball is a game which has changed millions of life in the USA especially the underprivileged. I'm hopeful, that not like IPL but this game will gain popularity because it is fast, thrilling, dance and entertainment."
Box Singh Sports and Entertainment owned by famous film personality Pooja Bhatt, MunishMakhija (Former VJ, Channel V, Ritwik Bhattacharya (Former India No 1 Squash Player) and Team Zenext (team coordinator) announce acquiring franchise rights of Team 'Delhi Hoopers' in the 3BL – Basketball League.
Basketball 3×3 is the fastest growing urban team Sport in the world 3×3 Basketball comes to India for the first time with BBL 3×3 Pro Basketball League lndian Subcontinent.
The six-city multi tour league to begin from Delhi/NCR on June 9 & 10 2018. The first ever FlBA recognised basketball league in India will see basketball sensations players like Palpreet Singh Brar and international basketball sensations like lnderbir Singh Gill, Leandro Sauza Lima and more playing for their teams in this first season.